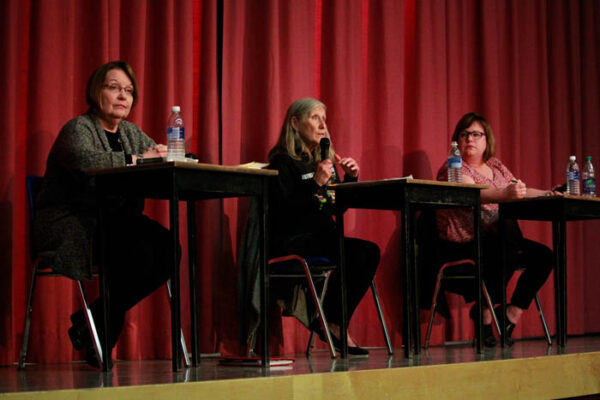 by EVAN MATTHEWS
As the May 9th B.C. Provincial Election fast approaches, candidates are blazing the campaign trail and aiming to win votes. This held true in McBride last week.
On Wednesday, Apr. 26th, incumbent MLA and Liberal candidate Shirley Bond, Green candidate Nan Kendy and NDP candidate Natalie Fletcher came together at the McBride Roundhouse Theatre for an All Candidates Forum.
Those in attendance were asked to write down their questions onto a piece of paper, which was then anonymously submitted to the forum's moderator.
The moderator posed the questions to the candidates.
Topics included how to promote small business in McBride, rural education, forestry, carbon taxing, clean energy, economic development, healthcare, and a few others as well.
A summary of the candidates' statements is listed below, in no particular order.
Though Green candidate Kendy struggled to keep her answers within the allotted timeframe, many times over she re-iterated the Green's willingness to invest in schools and infrastructure, which would "grow business in the North," she said.
"The Liberals tax average people, but not corporations," — B.C. Green candidate Nan Kendy
Kendy stated Kinder Morgan's Trans Mountain Expansion is "a bad idea," and the Green's are willing to invest in anything that moves society further from the use of fossil fuels. She said communities must take back ownership of assets, including hydro, and said taxes need to become more progressive and neutral, adding "the Liberals tax average people, but not corporations."
Incumbent MLA and Liberal candidate Shirley Bond, offered promises of eliminating Provincial Sales Tax for small businesses and reducing the Small Business Tax to two per cent. She said pending a win, the Liberals would be re-visiting the rural education funding formula, and she pointed to the Liberals engaging the public via the newly formed Rural Education Taskforce. Bond promised to continue fighting the USA on the recent softwood lumber tariffs affecting local loggers, while also promising to freeze the carbon tax and "wait for the rest of Canada to catch up," adding the tax would remain revenue neutral.
Stating many times over people should not choose between environment and economy, and the two can work together, Bond promised continued support for run of the river energy projects and geothermal energy, as well as reinforcing her commitment to Kinder Morgan's pipeline expansion. She also pointed to unemployment dropping from 17 per cent to 7 per cent during the Liberal reign, saying, "it's still too high and there is more work to be done." She also committed to continue cutting MSP premiums as the sitting government can afford to do so.
The NDP's Fletcher, too, promised to cut the Small Business Tax to two per cent, and promised to freeze the ever-rising hydro rates. In regards to rural education, she said it's not just rural schools being underfunded, but all schools, though she did not specify a plan to rectify the issue, but she said, "the Premier has spent kids money fighting the Supreme Court on funding issues."
On carbon tax, Fletcher promised to follow the Prime Minister's plan and said the goal is to "put money back in (regular) people's pockets."
Fletcher said while the NDP isn't against pipelines, they do oppose the Kinder Morgan expansion, and the NDP goal is to reduce B.C.'s carbon footprint. She promised to invest in infrastructure and create jobs, as she said rural economic development needs to be equal to urban counterparts.
Neither the Conservative Party nor Christian Heritage Party have named candidates in the Prince George-Valemount riding to date.