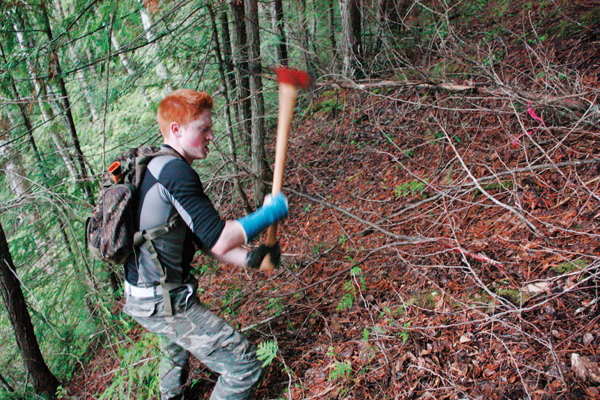 by EVAN MATTHEWS
McBride's mountain biking infrastructure will continue development this summer, as the valley aims continued efforts at attracting tourism.
Slowly but surely, the Robson Valley Mountain Bike Association (RVMBA) is working to finish Phase 1; though 10-kilometres of trail is already open.
"We're adding a two-kilometre downhill trail. We're adding another cross-country downhill trail — right now it's rated black, and I want to get it down to blue," says RVMBA member Ingrid Stengler.
"Basically we'll end up with four-kilometres of new trail this summer," she says.
New trail, yes, but Stengler says the infrastructure is a work in progress.
Phase 1 of the RVMBA's trail development started last year, and included 18.6 KM of multi-purpose, cross-country mountain bike trails, and five kilometres of downhill mountain bike trails.
But Phase 1 isn't complete yet, so construction will continue this summer.
The B.C. Rural Dividend is providing $100,000 to the project, according to Stengler, with RVMBA having spent $54,000 over the last two years.
Rec Sites and Trails B.C. also put in money every year, she says.
"We're spending a lot of time (and money) working with some of our existing trails and enhancing to make them a little bit more rider friendly and fun," — Ingrid Stengler, Robson Valley Mountain Biking Association member
The funding doesn't just go to trail building, according to Stengler, but is used in more of a broad scope including marketing, training, etc.
"We're spending a lot of time (and money) working with some of our existing trails and enhancing to make them a little bit more rider friendly and fun," says Stengler.
There is no set timeline for the completion of RVMBA's bike park project, as one of the main factors impeding the organization from quick development is guaranteed funding.
Unlike VARDA who can apply for Columbia Basin Trust grants, Stengler says the RVMBA falls outside of the Columbia Basin, and therefore does not qualify.
"We're entirely funding dependent, and we don't have a basis of funding," says Stengler.
"There is no (financial) pool, but we're doing okay," she says.
The trail system can be accessed from the parking lot on Rainbow Road Forestry Service Road at Kilometre-One for hikers and cross-country mountain bikers, or Kilometre-Three for downhill mountain bikers.
Current trails include Jackpot, Ragged and Outrun, she says.
Jackpot is a three-kilometre machine-built trail, described as a heart pumper on the way up, and fun and flowy on the way down. Smooth and curvy, the trail climbs briefly through a dense cedar forest and then opens up through a mixed stand of spruce and deciduous trees.
Ragged can be looped with the proceeding trail to create a five-kilometre loop. Mostly hand-built by volunteers for intermediate downhill mountain bikers, this trail begins with some smooth berms, passes through some giant fir trees, descends through some fun rocky sections, and finishes with some smooth, rollable jumps and corners.
Outrun is an easy trail about one-kilometre in length. The trail is straight and fast, climbing gradually, and Stengler says eventually it will link to other trails in the network.
Stengler says When RVMBA gets to Phase 2 it will start to develop flow trails "more like Valemount's."
"Our layout is very nice on this mountain, and it can connect and flow together really well," says Stengler.
Keep your eyes peeled for notice, as Stengler says RVMBA will be offering guided walking tours of the area this summer.