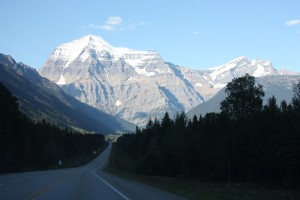 by EVAN MATTHEWS
With divided highways and passing lanes as proven methods to increase highway safety, Valemount's Village Council is hoping its membership within the Yellowhead Highway Association will prove valuable.
At its Feb. 28 Council meeting, Village of Valemount Council passed a resolution to support the Yellowhead Highway Association advocating for twinning the Yellowhead highway. Council did not specify a specific portion of the highway at the Council meeting.
With Highways 5 and 16 now being the new oversize routes into Northern B.C. and neighbouring Alberta, Councillor Torgerson says there has been "significant increase" in the number of heavy (commercial) vehicle transportation, which in combination with RCMP backed collision statistics, could warrant reviewing the current infrastructure.
Given Valemount's location, the Mayor says it makes sense to advocate now.
"The Yellowhead Pass is the least closed of all mountain passes in North America… There are very, very many accidents on this highway," says Townsend.
"There are more transport trucks that are coming from Chicago, to Winnipeg, to Yorkton, Saskatoon, Lloydminster, Edmonton, Tête Jaune and then turning south here and going to Vancouver," she says.
The Village's approach, according to Mayor Jeannette Townsend, is to shoot for the stars. By aiming for a complete twinning of the highway, she says the Province may come back and offer more passing lanes, which increases highway safety in its own right.
"We met with Minister (of Transportation and Infrastructure Todd) Stone last September at UBCM, asking maybe if we request a four lane highway that they might give us passing lanes," Townsend said at the meeting.
Asking the Regional District of Fraser-Fort George Board of Directors to pass a resolution of its own would help to take the issue forward into B.C. Caucus discussions to be held at the Trans Canada Yellowhead Highway Association general meeting, according to Townsend.