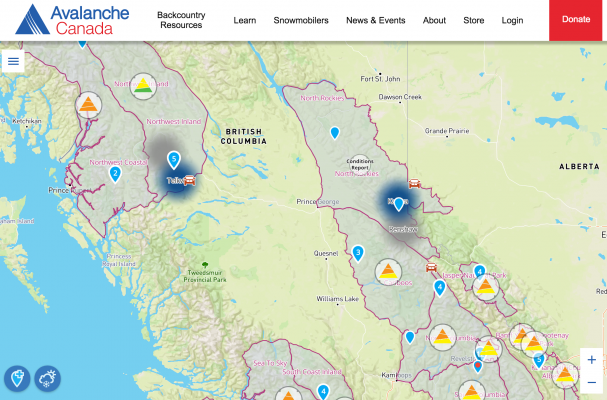 Avalanche Canada warns March "deadliest month"
by LAURA KEIL
Last week Avalanche Canada released a warning that the majority of recent avalanche deaths for snowmobiling involved men from Alberta, and that snowmobilers are not getting the training they need to stay safe.
Gilles Valade, Executive Director of Avalanche Canada, says more than 8,000 people take avalanche training each season, but fewer than 15 per cent are snowmobilers.
Over the past five years, a little over half of the 45 deadly avalanche accidents involved snowmobiling, all of which occurred in B.C.
Avalanche Canada did not provide data on the percentage of snowmobilers in the backcountry compared to other groups, or whether they are disproportionately affected.
A large proportion of mountain sledders hail from Alberta. In the past five years in Canada, of the 24 snowmobile avalanche deaths, 15 were Albertans, including 12 from the "Edmonton area" – an area that includes places as far as Red Deer and Lloydminster, according to an Avalanche Canada map.
Curtis Pawliuk, General Manager of the Valemount and Area Recreation Development Association in Valemount guesses 75 per cent of VARDA riders are from the Edmonton region and north.
With March the deadliest month for avalanches, Avalanche Canada is trying to get the message out to this group.
"Unlike other user groups, snowmobiling avalanche fatalities are showing a clear pattern," Valade says. "When we see such a cluster in terms of place of residence, it raises a concern that our safety messages aren't reaching the people who clearly need it most."
Last year five sledders from Alberta were killed in an avalanche that swept up a group of people in the Mt. Renshaw area north of McBride.
Valade says convincing more sledders to take this training where they will learn safe travel techniques for avalanche terrain and how to self-rescue is a significant goal for Avalanche Canada, a non-profit organization geared to avalanche data and awareness.
It often comes down to managing risk, Pawliuk says.
"Far too often we see terrain choices that simply do not fit the conditions," says Pawliuk. "These people are getting lucky."
"While the snowmobile community has come a long way, we need to start seeing greater buy-in and respect for the hazards of the backcountry."
Valade says an Avalanche Skills Training course is the first step for anyone recreating in the backcountry.
Valade says everyone in a backcountry party needs to have an avalanche transceiver, probe and shovel that they know how to use. For current avalanche conditions, check www.avalanche.ca. For information on training, click on the "Learn" tab.