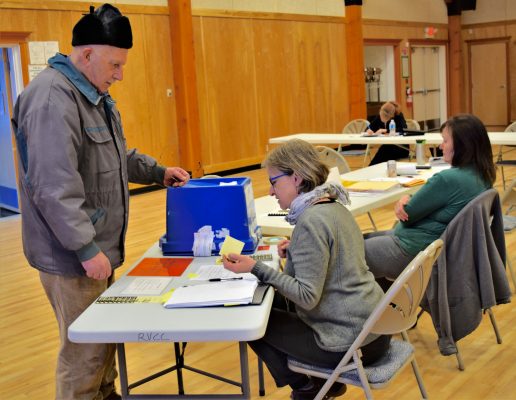 by EVAN MATTHEWS
The by-election is over and, at least unofficially, McBride has three new Councillors.
The top three vote getters this time around, were Rosemary Hruby with 158 votes, Lucille Green with 107 votes, and Harold Edwards who garnered 104 votes.
Regional district says the three councillors will be sworn in and take office at the convenience of McBride's administration — which was decided to be Mar. 21, at the Feb. 28 Council Meeting — while the next regularly scheduled Council meeting should take place on Mar. 14, and the official results are to be announced on Mar. 8.
The newly elected members of Council will see their term in office end in October 2018, which is in line with the next regular municipal election.
The race was a close one, as Bob Balcaen narrowly missed taking office by two votes, getting 102 total. Allan Frederick was also close with 91 total votes.
Rounding out the election results, are Joseph Rich with 72 votes, Diane Smith with 45, Irene Rejman with 40 and Mike Moseley with 38.

Advanced polls were open at the Robson Valley Community Centre on Feb. 22, but closed the same day.
All other voters took to the polls on Mar. 4 at either the McBride Hospital and Beaverview Lodge, or the Robson Valley Community Centre.
Overall voter turn out saw 757 markings on the ballots, as in this election, each voter marked their ballot by selecting three candidates as there were three positions available. The 2016 census showed McBride's population to be around 616.
On Nov. 18 Councillors Ralph Bezanson, Sharon Reichert and Edee Tracy submitted their walking papers, leaving Councillor Rick Thompson and Mayor Loranne Martin as the only remaining members of council.
The former councillors issued an official statement that said "After several unsuccessful attempts to have our Councillors' concerns addressed and having no other resource, we could not continue to participate any further on council, for the best interest of our community."
On Nov. 29, Minister Fassbender signed a Ministerial Order to allow the remaining two members of council to constitute a quorum until the vacancies are filled through a by-election.
During this time of transition, Minister Fassbender instructed Mayor  Martin and Councillor Thompson to not make any long-term decisions, including any creating legal or financial liabilities for the village.
The Village's focus should be on decisions essential to sustaining the operations of government only, according to the Province.