by LAURA KEIL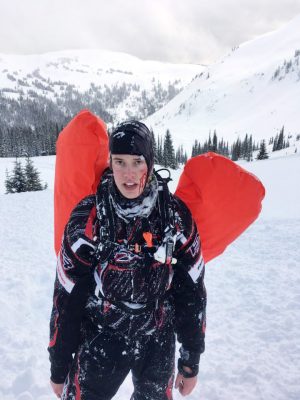 Tom and Ryan Kroetsch and six other sledders are happy to be alive after being swept up in an avalanche in the Allan Creek riding area last Friday.
The Kroetsches – father and son snowmobilers from Provost, AB – had stopped in what they considered a safe spot, some ways from the steep slope a few others were riding at about 10a.m. Jan. 20th.
On a nearby ridge Tyler Rivard had been watching Tom and several members of his own group high-mark the slope. He wasn't in a sledding mood that day, and felt uneasy about the terrain, but he sat on his sled for 45 minutes watching the others carve lines on the mountain.
After nearly an hour of watching, Rivard cut across the slope to test the snow conditions. He had noticed earlier in the day that an area known as "Avalanche Alley" hadn't slid yet. But they were past Avalanche Alley now and in a spot they had ridden many times in the past.
He tested the slope and nothing slid, so he geared up. He was getting cold and needed to move.
The others in Rivard's riding group – all from the Vegreville, AB area – were camped out on a ridge where sledders often break for lunch. It is to one side of the high marking area – what most people consider a safe spot.
But on Friday it didn't matter.
As Rivard turned his sled out of the high mark, he felt the snow move.
"I felt a big shift and the back of my sled dropped down. I looked and in the corner of my eye I saw the whole hill sliding slowly."
He tried reaching for the pull cord on his avalanche pack, but when he took his hand off the throttle, he got pulled towards the slide. He got his hand back on the throttle and was able to ride out.
Ryan Kroetsch saw the wave of snow barrelling towards him, oddly quiet. Even when it was right in front of him, just before he turned his back to it, the sound of the slide was nothing more than "muffled wind."
The snow hit them so hard it lifted them off their feet.
"It feels like the feeling of being smashed by a wave in the ocean and being tumbled around under the water, and you just scramble to try and get to the surface," Ryan told the Goat.
The avalanche had started and stopped in a matter of 5-10 seconds, Rivard and Ryan both say. When it finally stopped, Rivard looked around and could no longer see his friends on the ridge.
"I felt a big shift and the back of my sled dropped down. I looked and in the corner of my eye I saw the whole hill sliding slowly," – Tyler Rivard
All eight sledders in the vicinity were swept up in the slide.
Rivard and the others who dug themselves out on their own, quickly went into action to locate the others.
"I had my beacon, probe and shovel out probably 25 seconds from when the avalanche hit," Rivard says, giving credit to a recent avalanche safety course for his quick reaction.
"There's so much adrenaline in your body, you just shovel."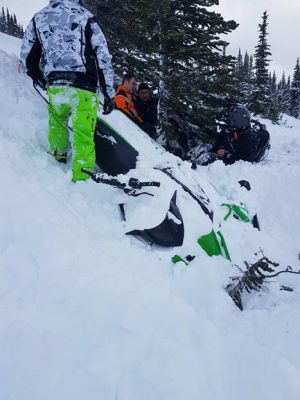 A father and son in Rivard's group were both fully buried – – they saw just the fingertips of one sticking out of the snow. The first question both of them had was about the other's wellbeing.
The father's leg was wrapped around a tree. They managed to dig him out, but he fractured his tibia and is now in a cast.
While the ridge group was pushed about 150m into the trees, the Kroetsch's were knocked further downhill, far beyond what they imagined possible.
Ryan was knocked unconscious and buried. Tom was able to dig himself out, locate Ryan and get him out in time.
They both escaped with minor injuries – Ryan got a cut on his cheek, but both were able to leave the scene on their own.
Rivard says Avalanche Canada rated the slide a 3.
Tom's brother Mark Kroetsch posted on social media after the event relaying what happened and encouraging snowmobilers to take avalanche safety courses.
Rivard credits the course he took in December with local avalanche safety instructor Curtis Pawliuk for helping him stay calm and know what to do.
"If I didn't take that avi training, I wouldn't know where to begin," he told the Goat. "Knowing how to use your tools – there's even a method to shovelling – you have to know that or you're working harder than you have to."
Since the slide, Rivard and his friends have talked about what happened.
"That avalanche should have sucked me in," Rivard says. "When that thing started to crack, we thought it would follow the ridgeline down, but this year there was so much snow… it was much bigger, it filled in the gully."
Both groups of sledders had experienced riders and had never witnessed a slide that big before.
One commenter on a facebook post put it simply: Being experienced rider does not make you experienced in avalanche terrain.
Rivard says he should have trusted his gut and not gone on that slope.
Mark Kroetsch says his brother Tom was supposed to attend the same avalanche training he did the weekend before, but had missed it due to work. Luckily, things still worked out for him and his son. Mark says his brother Tom has snowmobiled all over B.C. but the magnitude of this slide surprised him.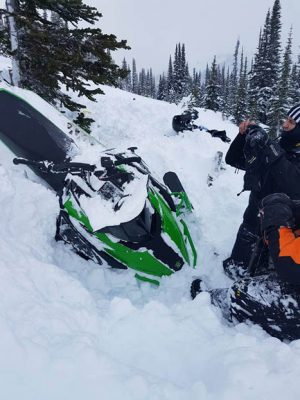 Avalanche Canada had issued a special warning for backcountry users over the weekend due to heightened avalanche risk. The warning stated that recent warm temperatures and new snow had resulted in a dense 'slab' layer resting on a very weak base and the combination of factors results in a snowpack that is unstable, making it easy for riders to trigger large avalanches.
Avalanche forecaster James Floyer said the problem could be overcome by conservative terrain choices.
But for these riders who thought they were safe by riding areas that had been ridden before, the slide drilled home that unexpected things can happen. They hope their experience will encourage others to be avalanche-prepared and that their story might save a life.
"Just want others to have the opportunity to learn from this," Mark says, "And to realize no matter how safe you think you are there is always the possibility of something unexpected happening."