By Andru McCracken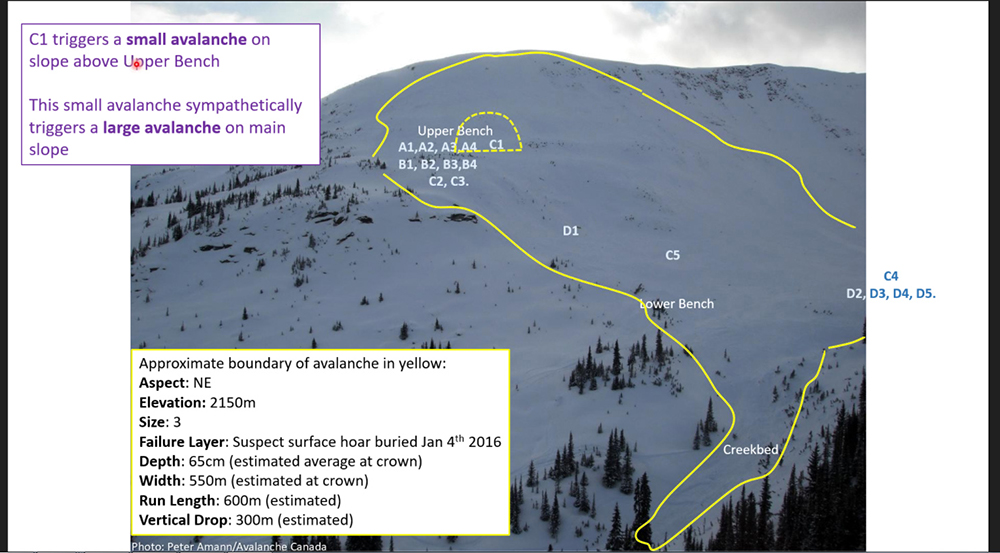 In advance of this year's sledding season, Avalanche Canada presented their study of a tragedy that took five lives in the Renshaw riding area near McBride on January 29, 2016.
About 400 snowmobilers and snow enthusiasts in Western Canada and the United States tuned in to the virtual presentation on October 28 to glean lessons from that tragic day.
The presentation comes in lieu of the kind of in-person outreach and presentations Avalanche Canada usually holds due to the ongoing pandemic.
Avalanche Canada Forecaster and snow scientist James Floyer made the presentation.
"I'm acutely aware what we are talking about had a direct impact on people's lives. It touched many people in the communities of the North Rockies… It's very important to share this story," said Floyer. "Sharing our stories and case studies helps people understand events. It's how we learn as a species."
Floyer first outlined the Renshaw's snowpack: Snow that had fallen two months prior and that snow's changing surface during clear cold nights and in the sunshine set the stage for the tragedy.
You'll often hear of snow enthusiasts digging snow pits. It's a very simple way of determining what the state of the snowpack is and what dangers lie buried.
What Avalanche Canada and BC Coroners' work at the site of the avalanche determined was that surface hoar — a layer of feathery crystals — had grown on the surface of that early snowpack.
Subsequent snow gently buried the surface hoar, preserving the layer as a set of crystalline dominos ready to collapse.
By January 4th, that layer of hoar frost was identified as a persistent weak layer. Enough snow had built up on it that there were natural- and human-triggered avalanches in surrounding snowmobile areas.
"There was lots of discussion about what was happening and how the layer was starting to react," said Floyer.
On January 22, a week before the tragedy, a Special Public Avalanche Warning was issued for a large number of areas.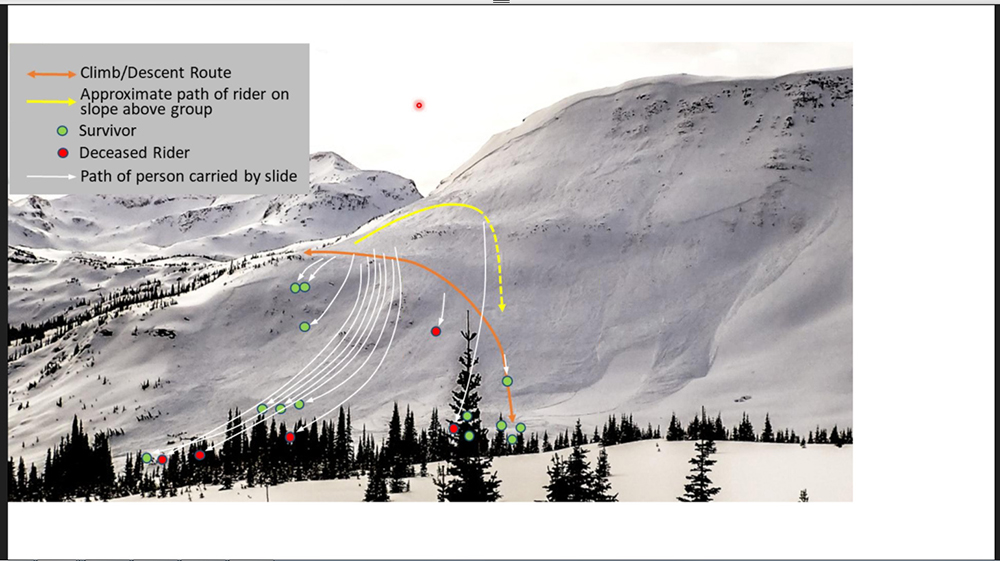 The North Rockies region was not included in this list, Floyer said. "When we made that decision there was a sense that there was less load on that layer…. The conditions were not ripe for large destructive avalanches. That is a decision we might regret a little bit."
At the time, avalanche conditions in the North Rockies region were only delivered weekly in a conditions report.
"Since that time we have put together a field team. They go out through the week and gather data to produce an avalanche forecast. We produced a forecast three times a week last year and this year [it will be] four times a week [when forecasting begins]."
On January 23 2016, a snowmobiler was killed in Torpey, BC, northeast of Sinclair Mills. The rider had pushed into an area that was not heavily ridden.
"Maybe there was a little misassessment of riding areas that haven't been heavily tracked," said Floyer. "It is critical to make assessments that reflect how much or little sled traffic an area has had."
On January 27, two days before the tragedy struck, a storm hit the Northern Rockies with strong winds.
Floyer said forecasters suspected a natural avalanche cycle would take place and they were surprised there weren't more.
On January 28, the day before the tragedy, they released another report, said Floyer.
"Manage your group so there is only one person on a slope at a time. Ensure other groups in the area don't cut onto slopes above you."
Floyer said that the long text report was clearly not the best way to brief riders.
"We hope our new forecasts have gone some way to improving information in the area," he said.
On the day of the incident, there were clear skies and the temperature cooled. 250 trail passes were sold for Renshaw that day.
Floyer broke down the mechanics of the avalanche on that particular slope: what triggered it, where riders were before and after the avalanche took place. In all, 18 riders were caught in the avalanche. Five perished.
There were four groups of riders navigating through the area, either en route to or returning from a far flung riding area. The path they chose to navigate through was 'complex' terrain. Complex, in this case, given the conditions, meant dangerous.
Two riders from two separate groups were stuck on the slope. Other riders, above and below were nearby.
As Floyer reviewed the situation it's easy to see why the riders on either side might have chosen to stay in those locations: to maintain visual contact with their riding buddies stuck on the slope, to provide assistance if needed or in case of an avalanche… or to patiently wait for their turn to traverse the slope in question.
When one rider near the top left of the group made a small cut in the slope above, perhaps to help one of the stranded riders, he triggered a small size 1 avalanche.
"That avalanche sympathetically triggered a large avalanche," said Floyer.
The resulting slide was more than half a kilometer wide, 65 cm deep and 600m in length and dropped 300m in elevation.
A group waiting to cross the area at the bottom were very lucky, as a large section of the slope directly above them did not release. Floyer said this is called 'hangfire.'
"As a result the group waiting were quite protected."
What to do differently
There were a whole host of things that the riders from the four different groups could have done to prevent this accident from taking place, for example: choosing another available path through simple terrain, waiting for other groups to traverse the complex terrain from a safe waiting place, and treading more carefully on the slope. However, the riders seemed to be aware of the precariousness of the situation and clearly, from their preparation and equipment, were ready for and expert in finding their companions.
"The rescue story was a very bright point about this avalanche tragedy," said Floyer. "Everyone was carrying good equipment. Some of those people had to dig themselves out before they could move upslope and help their companions."
There was one full burial and many partial burials among the survivors, and the 13 riders who lived through the experience were able to locate all the victims and extricate all but one before search and rescue arrived.
Floyer said while smaller groups of 5 or 6 sledders have considered how they move through the mountains together, what needs to be considered is what happens when multiple groups are in the same location.
"The slope doesn't know that people are from different groups," he said. "When there are other riders in the area, you have to consider your group size has increased. You may want to take actions to reduce your exposure."
Floyer said the January 29 avalanche was a precursor to a really big natural avalanche cycle.
"Subsequent warming and wind events made the snowpack ripe for human triggering," he said.
One of the disturbing, and perhaps enlightening reflections on this tragedy was that airbags didn't keep several of the riders safe.
"This incident is not a great advertisement for airbags," said Floyer. "It keeps you afloat in the turbulence of the avalanche, [but when you come to a stop] snow still piles up on top. And it doesn't take into account being carried into a deep gully, tree or off a cliff."
In spite of that, Floyer said Avalanche Canada believes that if every backcountry enthusiast wore one, it would reduce avalanche fatalities by 10%.
When Floyer concluded his presentation he thanked those involved in the incident for their help.
"We hope that this story is in the end a positive story that helps promote avalanche safety," he said.