How researchers are using computers to improve avalanche warnings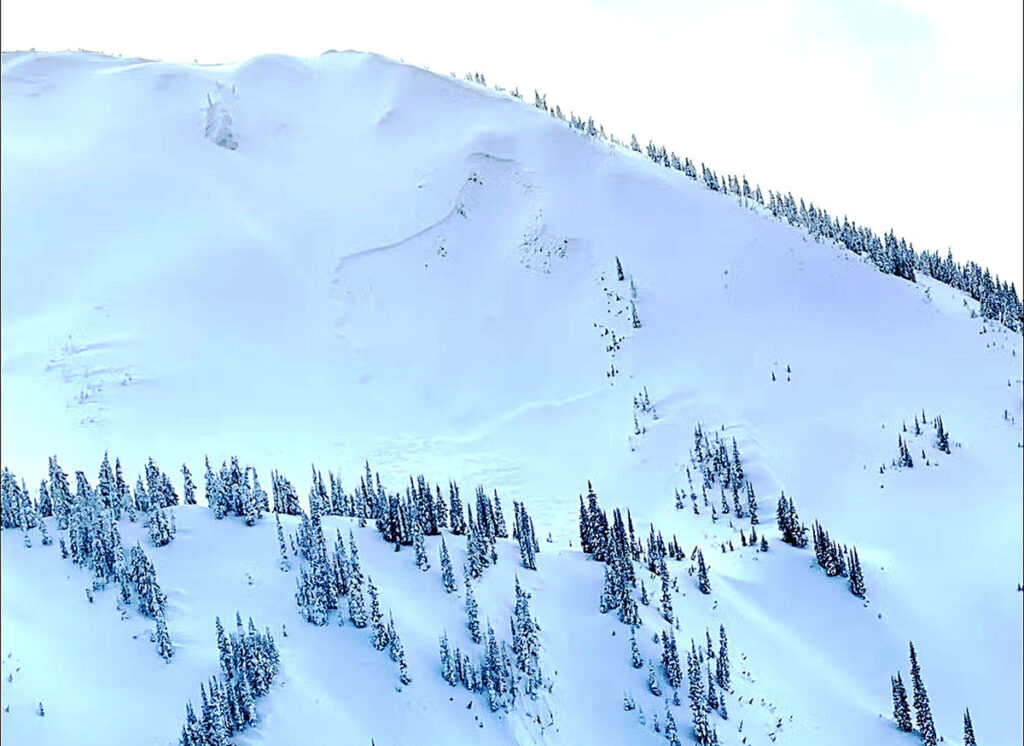 By Laura Keil
A Grand Prairie-area man has died after an avalanche swept him up in the Oasis riding area south of Valemount. His riding companion managed to sled out of the avalanche and dig him out, but by then he was unresponsive. SAR has now recovered the body.
Avalanche Canada says the snowmobilers were riding at the base of a 40-45 degree slope in a feature known as Bowl 3 in the Oasis area when the size 2.5 avalanche was triggered remotely on Saturday around 11:30am.
Since December, Avalanche Canada has issued multiple warnings about the weak layers and "spooky snowpack" which could trigger large avalanches without warning.
Riding with caution
Avalanche Canada has said that reports of human triggered avalanches indicate the snowpack is very unstable in the region. "Stick to well ridden and/or simple terrain. Be mindful that deep instabilities are still present and have produced recent large avalanches. Carefully assess open slopes and convex rolls where buried surface hoar may be preserved. Avoid thin areas like rock outcroppings where you're most likely to trigger avalanches failing on deep weak layers. Recent wind has varied in direction so watch for wind slabs on all aspects."
Improving models and warnings
Pascal Haegeli, a research chair in Avalanche Risk Management and lead for the Simon Fraser University's Avalanche Research Program, has spent the last 20 years studying avalanches and looking at ways to improve public safety through better modelling and better warnings. He works closely with Avalanche Canada, the national non-profit devoted to public awareness of avalanche risk.
Part of his research is to develop evidence-based tools that help recreationists and avalanche professionals make better decisions when planning for and travelling in the backcountry in the winter.
"I think we're dealing with a challenging situation that's unusual that we haven't had for a long time where we have weak foundations that's prevalent across most of the province. And those deep persistent avalanche challenges tend to stick around for a long time and it can be really challenging for people to deal with."
One of Haegeli's projects involves using computer-based models that simulate the evolution of the snowpack based on weather forecast model output.
"So we're basically taking weather forecast data and feeding it into a model to predict the evolution of snowpack across western Canada."
Part of the work they do is correcting models if they drift away from reality, thereby improving their accuracy. Models are important when managing an area as vast as B.C.'s backcountry.
"In some of the forecast areas, there's actually not that many direct observations of the conditions and the models can provide an additional stream of data for forecasters to get a handle on what's going on in the snowpack."
On the social science side, his team tries to better understand the risk communication tools
"How well do recreationists understand the bulletin? How do they use these tools to make decisions? How and where can we improve it? Even the best avalanche forecasts in the world are going to be of limited value if the users can't understand or apply them."
He says they can't predict exact real-time conditions on specific slopes or bowls – you would need local knowledge for that. But the models are useful on a more area-based level.
"General conditions at alpine, treeline and below. That's the kind of level of detail that we're trying to provide."
He notes that one of the changes Avalanche Canada has implemented is adjusting forecast boundaries depending on conditions. In other words, Valemount could be in one forecast area one week and another forecast area a different week if its conditions shift.
Haegeli says there's always space for improvement in communicating avalanche risks.
"There's always so many factors that come together in these accidents, but there's definitely space for improvement in trying to potentially communicate avalanche risk and its consequences in a more tangible way," he said.
Some of their research has shown that people are quite good at answering questions in surveys around what the different terms mean in the avalanche bulletin, but when they are put in a situation where they have to evaluate different slopes or choose a trip under certain conditions, they sometimes fail to apply this knowledge.
"The important step that recreationists need to make is how they relate this info to what they're going to do in the field," he says. "That's a difficult step to make."
The Avalanche
The avalanche was remote-triggered close to the edge of the bowl at a point. The riders were about 20 m from the toe of the slope. Avalanche Canada has not reported whether they were moving or stopped at the time. The avalanche ran on a layer of facets near the base of the snowpack, which had been set down in November, with a crown depth between 80 and 120 cm.
On Saturday, Avalanche Canada said conditions were particularly bad around Valemount and that it had received numerous reports of large human and remote triggered avalanches throughout the day, and warned people to choose safer terrain.
"Remote triggered avalanches are a strong sign of an unstable snowpack," Avalanche Canada said. "This is a dangerous snowpack and it seems to be particularly volatile in this area at the moment."
The issue of weak buried layers has been a major one this season, they say. Forecasters have compared the potential for avalanches this year to that of 2003, when 29 people died across Canada. Many human-triggered avalanches that occurred in the week leading up to the fatal avalanche were very large avalanches at upper treeline/lower alpine, on both a 50 cm deep surface hoar layer in the middle of the snowpack and weak facets at the bottom of the snowpack.
"Avalanches like these are most likely to be triggered on steep, shallow and previously undisturbed slopes," Avalanche Canada reported last Thursday.
On Monday, Avalanche Conditions were considerable at and above treeline in both the McBride, Valemount and Blue River regions (see map). Conditions were set to deteriorate further in McBride riding areas this week.
This is the third avalanche-related death this month in the province. On Jan. 9, two off-duty police officers were caught in an avalanche near Kaslo. One died that day while the other died Saturday after being hospitalized for critical injuries.