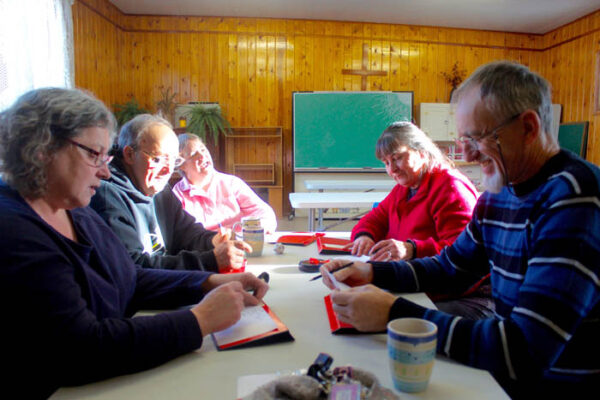 by EVAN MATTHEWS
Winter can be a lonely time for many, and for a group of locals in Valemount, they've decided it doesn't have to be.
Conversation and laughter echoed, and the aroma of coffee swirled through the Valemount Anglican Church's hall, as Marian Plummer, Ellen Duncan, Maurice Hill, and Art and Mimi Guiltner have started a drop-in centre of sorts.
The five were huddled around a table during the group's first get together on Wednesday, Jan. 3.
"The goal is to get together, play games, and have a bite to eat at the same time," says Plummer.
"There has been a quite a bit of money donated to it, so we're renting the church hall," she says.
Whether a person is a widower, a single parent, is low-income or simply new to the community, Plummer says the group wants to provide companionship to those who have none, food to those who need it and spirituality to those who are seeking it, all in a low-pressure environment with no expectation or judgment of a person's situation.
"The goal is to get together, play games, and have a bite to eat at the same time," – Marian Plummer, organizer
But the group isn't just for struggling people, Mimi Guiltner says, as anybody with interest should stop in to say hello.
"Winter is a lonely time, and you start getting a little bit depressed if you just stay in the house," says Hill. "Sometimes it can even feel like there is no point in living."
With 11 people in attendance at the group's first gathering on Wednesday, Jan. 4, the founding members say the organizing group is bigger in actuality, and in order for the idea to become a success — the group that attends will need more people to come out in order for the concept to grow.
Starting with the first and third Wednesdays of the month, the group is ultimately working at hosting the drop-in one evening per week.
If people have no mode of transportation, Hill says members of the group are even willing to go pick people up.
"If they want to come, we'll go get them," says Hill. "It's good to get together and laugh."
Any of the aforementioned group members are listed in the phone book or can be contacted via Facebook.