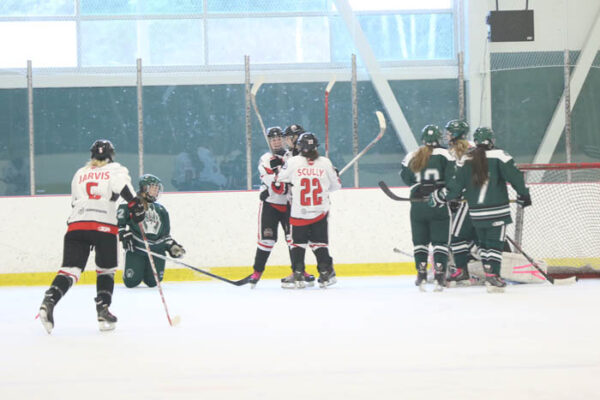 It hasn't been an easy road for hockey player and McBride native, 15-year-old Braxtyn Shawara, but her hard work and perseverance is starting to pay off.
B.C. Hockey named Shawara — who plays for the Northern Capitals — the Female Midget AAA (FMAAA) Player of the Month for November.
Shawara, who is a first year player in the league, leads the league in goals with 12, and is tied with fellow teammate Caily Mellott for the league lead in points with 17.
"She's been working really hard," says Shawara's mom, Jenny. "She shows up at every practice, and she's so committed."
Even Shawara's coach, Carl Johnston, is taking note of her work ethic.
Though he says there is still a lot more work to do, he says Shawara's ability to pass and receive pucks is what stands out the most.
"It's starting to translate into her shooting as well," says Johnston, noting once again she leads the league in goals.
"I really don't know what it is that makes her so special. She's come off the ice and we've asked her, 'how'd you score that one?'
"Her answer, is very humbly, 'I don't know,'" he says.
Though a rookie, Johnston says Shawara is very coachable. She gets along with all her teammates, Johnston says, and she comes to practices and games ready to work.
"My dad has been the biggest influence on my career. He's taught me… you don't have to be the most skilled player, but if you work the hardest — that's what matters," — 15-year-old Braxtyn Shawara
Between dry land training, hockey academy at her high school, and practices and games with the Northern Capitals, Jenny says her daughter practicing every day.
Growing up in McBride, now living in Prince George, Shawara says her parents have always accommodated her hockey, even coming up with creative ways for her to practice, such as a giant cargo net set up in their garage for her to shoot at.
"In the summer, I practice my shot in the garage almost every day," says Shawara.
But living in a rural community meant gaining access to elite hockey became difficult, Jenny says, and it led to a pretty serious commute.
"At the beginning of Braxtyn's hockey career we were driving from McBride to Prince George every single weekend, and we did that for three years," says Jenny.
"We were committed on bringing her to PG for her hockey, and seeing her excel made the decision to move from McBride to PG in 2015 a little easier," she says.
However, Shawara's father, Mitch, may have been a little more willing to commute than some parents, as he himself comes from a hockey background, even playing professional hockey for four years in the West Coast Hockey, Western Professional Hockey, and Central Hockey Leagues.
Because McBride's arena often has open ice, Mitch says he was able to take Braxtyn out on the ice almost every day, and the two of them would focus on her skills.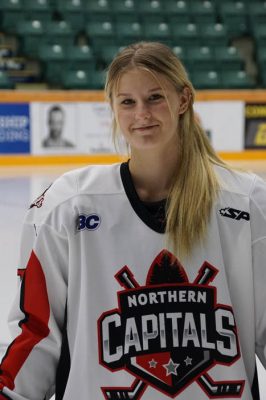 "My dad has been the biggest influence on my career," says Shawara.
"He's taught me… you don't have to be the most skilled player, but if you work the hardest — that's what matters," she says.
The Northern Capitals are travelling to Calgary over the break to play in the Mac's tournament, which the team won last year. As a rookie this year, Shawara was not a member of last year's team.
"But we hope to win again this year," she says. "We're definitely going to try."
The defending champion Northern Capitals open up the tournament against the Calgary Fire on Dec. 26.