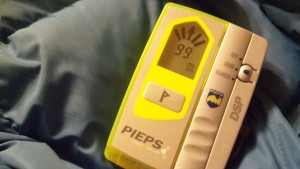 by EVAN MATTHEWS and LAURA KEIL
An avalanche that swept through the Clemina Creek recreation area has left one snowmobiler dead.
The B.C. Coroner Service and RCMP have identified the snowmobiler as Joshuah Maurice Bradshaw, 27, from Edmonton.
The area, which is roughly 20 KM southeast of Valemount in the Clemina area of the North Monashees, was closed Saturday morning but has re-opened on Sunday Jan. 1st.
Search and Rescue (SAR) was notified Friday afternoon but determined the scene was too unstable. They were waiting for the scene to be deemed safe.
Avalanche Canada says the avalanche was triggered by a rider on a wind-loaded feature, and potentially released on the mid-December interface.
Ilya Storm of Avalanche Canada says preliminary analysis shows one rider was digging out their snowmobile, while two people were riding above, possibly to assist their buddy, when one of those three people triggered the fatal avalanche.
"All three were caught, one was on the surface, one partially buried, and the person who lost their life was fully buried," Ilya says.
Curtis Pawliuk of the Valemount Area Recreation Development Association (VARDA) says there are "lessons we can learn" from the incident and posted a link to Storm's analysis.
"There have been many questions regarding yesterdays incident in Clemina Creek and we understand and appreciate everyone's concern and desire for information," Pawliuk wrote on a popular snowmobiling forum.
Depending on how you count, 90 to 95 per cent of avalanches that kill people are triggered by the person themselves, or someone in their group, Storm says, adding that what happened yesterday in Clemina Creek's Morning Glory Bowl is consistent with this.
Avalanche Canada reported widespread storm slab activity on Friday including natural and explosive triggered avalanches in the size 2-2.5 range, with some larger avalanches in extreme terrain.
"A few cases of storm slabs stepping down to the mid-December interface were reported on steep south-facing slopes and on wind-loaded features," the Avalanche Canada report reads.
"On Sunday (Jan. 1st), expect the recent storm snow to be most reactive in wind exposed terrain where moderate winds are forming fresh storm slabs. Triggering persistent slab avalanches remains possible in thin snowpack areas in the northern and eastern parts of the region."
An article in Sledder Magazine says Clemina Creek is a favourite spot for sledders and it has something for everyone: "The technical tree rider, the open bowl shooter and the powder searching sled skier will all find Clemina Creek to be one of the most accessible, well maintained and best snowmobile areas in BC."
The articles says the Morning Glory area contains "nice open meadows, great climbs and some scenic views."
"For the more adventurous, a circle route can also be completed from this area that travels through multiple bowls and back to the Goat Ridge Bowl area and ultimately back to the cabin."
The articles notes a BCA avalanche transceiver checker is located on the collection booth and there is a large kiosk which contains signage explaining the avalanche terrain rating for most of the popular play areas.
Snow and Mud forum member Scotts from Vermilion said it was sad news to hear of the death.
"Thanks to all those from SAR, CAA, Frozen etc who devote their lives to making the hills safe for all of us and carrying out the necessary when things don't end so well!! So many of them silently bear the burdens of these incidents!"
The avalanche rating on Friday was "considerable" for alpine elevations in that part of the Monashees.
Avalanche Control from Jasper Alberta have been called to assist SAR, RCMP say. They were scheduled to arrive Dec 31st.
The investigation is ongoing and at this time no further information will be released as the recovery efforts continue, RCMP say.