Unclear how money will benefit training local workers
by LAURA KEIL
Kinder Morgan says Valemount will receive the $185,000 Community Benefit Agreement sum once all approvals are in – and construction could be as early as next fall.
With the federal government's conditional approval to nearly triple the capacity of the Trans Mountain pipeline, the President of Kinder Morgan Canada Ian Anderson says he is hopeful construction can begin soon.
"I don't think I'd be sitting here today saying what I'm saying if I didn't fully believe that we could continue on the path to building and executing on this project," he said in a teleconference the Goat was a part of on Nov. 30th, a day after federal approval.
"I don't think I'd be sitting here today saying what I'm saying if I didn't fully believe that we could continue on the path to building and executing on this project," – Ian Anderson, President of Kinder Morgan Canada
Kinder Morgan is still awaiting final approval on the BC government's five conditions before it receives all its permits to build.
Four projects in Valemount could receive funding according to a Village of Valemount document: On the list of projects is an estimated $80,000 towards the mountain bike park and bridge construction – though the bridge has now been built; $50,000 for education funding for programs related to the pipeline industry; $50,000 towards the water intake project; and $5,000 to fund a consultant to update the Village's Emergency Plan.
Neither the Village nor Kinder Morgan has clarified how the $50,000 towards education programs would benefit local workers if the money is delivered when construction is about to begin.
The construction could create an economic boom locally for at least six months, based on some estimates.
Kinder Morgan has committed over $4.6 million for agreements with local governments situated along the pipeline in both BC and Alberta.
In addition to direct benefits, residents are able to register on Kinder Morgan's website to bid on contracts once they are posted. People can register here: https://csi.kindermorgan.com/csi/
While exact information on local contracts is not yet available, contracts could include vendors and suppliers for heavy equipment, construction supplies (fencing, portable toilets, gravel/soil, gloves/boots/safety equipment) trucking, food/catering, landscaping, IT, laundry, first aid, traffic control and many more areas.
Pipeline incidents recap
Data on Canada's major pipelines shows 1,050 reported incidents across Canada over the last 12 years, but only two in the Robson Valley.
The information comes from an access-to-information request in 2013, first obtained by CBC News. The data set shows every pipeline safety incident reported to Canada's federal pipeline regulator, The National Energy Board, from 2002-2012.
The data includes the Trans Mountain Pipeline that runs through Mt. Robson Park and the Valemount area.
According to this data, the closest spills or leaks were in Hay River, Alta, and Clearwater. No spills or leaks were reported in the Robson Valley from 2002-2012.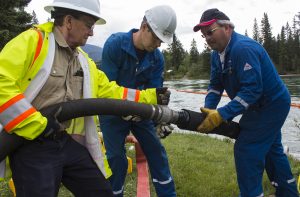 The pipeline rupture south of Hay River near Rainbow Lake in 2009 consisted of 1.45 billion litres of Natural Gas escaping from the Peace River Mainline operated by NOVA Gas Transmission Ltd.
Last year, Trans Mountain Pipeline reported less than 0.1 litres had escaped from their Darfield Pump Station near Clearwater, caused by an over pressure at the Blackpool Pump Station.
In Kamloops in 2011, someone spotted oil in a ditch at the Kinder Morgan Trans Mountain Kamloops Terminal. The company discovered oil leaking from a dia Meter pipe, a return line for waste oil. The company approximated that 11,000 litres escaped.
The only incidents in the Robson Valley pertained to workplace safety. Two serious injuries of workers occurred in 2008 while working on the Trans Mountain pipeline. One worker broke his ankle, and the other suffered major "disabling injuries" including fractures of the pelvis, ribs, sternum, cheeks, jaw and the operator's tongue was severed off after being crushed by a boom.