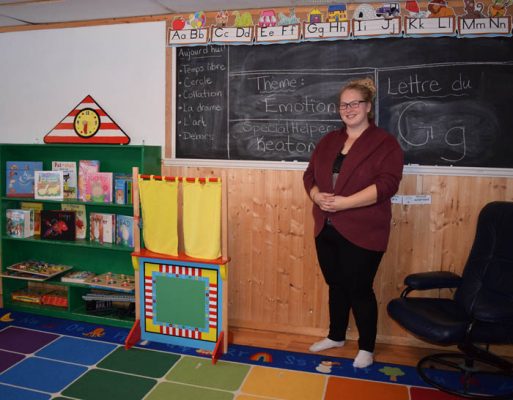 by MONICA MARCU
Her dream was to teach in a forest preschool, a most natural environment where children could play outside among trees, and sit on the grass while looking at the sky.
But for now Melissa Shea — aka Madame Boulianne — is happy to have her new preschool in McBride, the first of its kind and only early French immersion.
Shea smiles warmly when talking about her dreams and their dwellers — the children. People like her are born for this job, she says nobly, as they are the true educators whose efforts and care leave indelible marks on our childhood.
The new day care space, rented from the Robson Valley Support Society, is sparking clean, joyful and colorful.
French and English books adorn the shelves, toys rest quietly for now, and walls are decorated with children's drawings — happy and curious faces, of course.
Eight children between three and five years old learn here, but Shea would love to have one or two more, if possible.
The morning program runs three days a week from 9 AM to 12 PM.
The rich educational plan integrates learning French and having fun with some art and science experiments, singing songs, telling stories, doing crafts and daily outside playing. Outdoor adventures are very important to Shea who firmly believes in the power of nature to educate and stir the young souls.
Each day has a new theme, but today's is "emotion," and children learn to describe them in French.
A difficult task, she says, but by challenging those little brains, strong minds will develop.
Shea moved to McBride from Kelowna. She studied International Relations, French and Education at the University of British Columbia.
She is an avid traveler, and learned other languages throughout much of Eastern Europe, she says.
Passionate about teaching children and educating the community, Shea says she has enjoyed putting her skills to work in McBride.
She began teaching at McBride Secondary School in 2013, and with encouragement from friends and family, Shea started the preschool this year.
When she's not teaching, Shea says she enjoys hiking, snowshoeing, playing music with her family, or gardening and "searching for her green thumb", as she likes to say.
Grateful for the privilege of interacting daily with the children (whom Shea calls "mes amis") she knows the value of fostering language learning early in life.
She seeks to create an engaging and inclusive classroom setting, no matter what age she is teaching.
When asked about a recent happy moment she recounts how children one day spontaneously came and wrapped their little arms around her, saying they love her.
But above all, their continuous development, daily achievements and how they join forces to do something or laugh together, is what Madame Boulianne says makes her feel happy and fulfilled.