by LAURA KEIL 
Strap on your helmets because the Robson Valley Mountain Bike Association just launched its first official intermediate downhill trail in McBride.
The downhill is one of three new multi-use trails that opened last week, including an easier downhill and a cross-country connector trail.
The three trails add to an existing 5km cross-country loop that opened earlier this summer.
Phase 1 of the Robson Valley Mountain Bike Association's trail development proposal includes 18.6 kilometres of multi-purpose, cross-country mountain bike trails and five kilometers of downhill mountain bike trails.
The plan was prepared for the Mountain Bike Association by Joel Pirnke of MTB Works, a professional trail builder. It outlines 29 potential trails that incorporate some existing trails, and can be used by a combination of hikers, horses, cross-country and downhill bikers.
The trails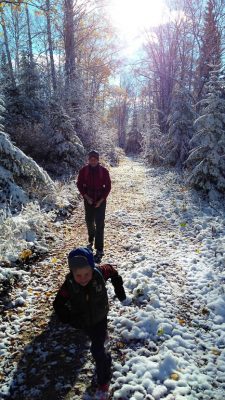 Mountain Bike Association member Ingrid Stengler says Jackpot, a new 3km machine-built trail, is a heart pumper on the way up, and fun and flowy on the way down. Smooth and curvy, this trail climbs briefly through a dense cedar forest and then opens up through a mixed stand of spruce and deciduous trees, she says in a press release.
The second new trail, Ragged, can be looped with the proceeding trail to create a five kilometre loop. Mostly hand-built by volunteers for intermediate downhill mountain bikers, this trail begins with some smooth bermed corners, passes through some giant fir trees, descends through some fun rocky sections, and finishes with some smooth, rollable jumps and corners.
The third new trail, Outrun, is an easy trail about one kilometre in length. The trail is straight and fast, climbing gradually, and Stengler says eventually it will link to other trails in the network.
Long-term plan 
More trails are certainly in the works as the mountain bike club received a $100,000 grant from the Rural Dividend, a new provincial grant. Stengler says they'll spend this money on new trails with an emphasis on downhill trails.
The club had a master plan designed a few years ago….
Mayor of McBride Loranne Martin says the grant will help improve summer tourism offerings and is a great boost to the mountain bike club.
"It's exactly what they need to move to the next level," she says.
The rural dividend grant is contingent on a skills training component, Stengler points out. They plan to train local people in trail building and brushing to build local capacity for future trails.
"So we're not hiring people from outside the community to build trails – maybe just to train and supervise," she says of their long-term hope.
Multi-use 
The 11km of new multi-use trails can be used by hikers, bikers, and even horseback riding, though Stengler says not all the trails are hard-packed enough for horses.
"The new ones are quite soft right now – right now there's moose prints all over them," she says.
Though she points out that the ground is much firmer than in Valemount, generally speaking.
The 5km loop built earlier this summer can be rode without a specialized bike.
"Our agenda isn't entirely mountain biking – we want multi-use trails."
Biking Culture 
Stengler says the trails are an important way to access nature.
"We live in a mountain environment and it's a beautiful way to be in mountains, close to town. Our trails are normally in the alpine, in McBride. Now visitors have a place they can go without climbing up a forestry road."
It's also a way for young people to be athletic without joining a team and having to spend a lot of money. She notes the trails are also good for running and the school brought kids up there for the Gr. 6-12 Terry Fox run last month.
That said, Stengler says McBride currently does not have a strong mountain biking culture. Right now, it's mostly adults on the trails, including those walking and hiking, as kids need a ride to the trailhead and many kids don't yet have downhill mountain bikes.
"We're just starting. There were some kids riding last year doing downhill shuttling, but we have a long ways to go in building a culture of mountain biking."
That's not to mention the economic impact of more summer tourism. A regional push for mountain bike trails puts McBride in the centre of a new economic driver in the north.
"I've heard that hotels are full in winter, but not in summer, so hopefully people have a reason to stay," Stengler says.
Funding 
The mountain bike association spent $40,000 on trails this year, and $14,000 last year to complete the 11km of existing trails.
Funding for the work so far has come from Northern Development Initiative Trust, McBride Community Forest, the Regional District of Fraser Fort George, and Recreation Sites and Trails. Building the trails were Jr. Walker Contracting and Specialized Forest Management as well as to volunteer trail builders.
The trails can be accessed from the parking lot on Rainbow Road FSR at Kilometre 1 for hikers and cross-country mountain bikers, or Kilometre 3 for downhill mountain bikers.