No, we don't mean in the figurative sense, but rather quite literally.
VARDA has opened its most recent addition to the Valemount Bike Park, as its new Downhill Trail is ready for the public, just a short week after opening the Connector Trail.
"(The Downhill Trail) mixes a jumpline, with an advanced downhill trail, even with a bit of a flow trail," says Curtis Pawliuk, VARDA's general manager.
"The trail is unlike anything outside of a ski hill, and it's pretty unique to Valemount," he says.
Once you've passed the jumpline, Pawliuk says the trail flattens out into what he calls a "machine-built, new school," trail, for riders of varying degrees.
VARDA expects most people who use the bike park on a regular basis will be able to enjoy the trail, as it has features everyone can enjoy — similarly to many of the bike park's trails.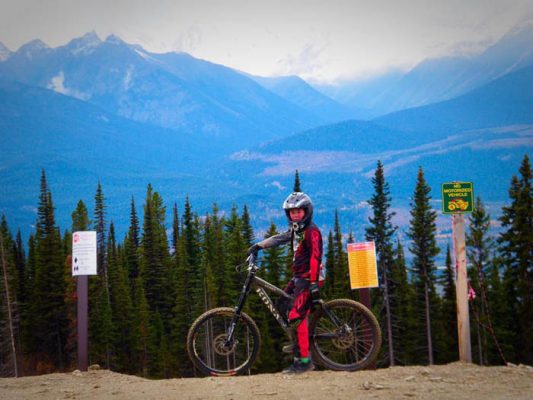 Twelve-year-old, Riley Hill, says he isn't quite ready for some of the trails features, but he's working toward it, and he's excited.
It's a little more extreme than other trails, Hill says, but riders can choose to bypass the tabletops and can also ride their brakes down.
"(Portions) are nice and smooth," says Hill. "The trail has a few tabletops, and you get a lot of speed on it. It's pretty difficult."
But the fact that the Downhill Trail is the most challenging to Hill, also makes it the most fun, he says, as it pushes him.
In the worst case scenario, all the features can be bypassed, according to VARDA, while the trail is definitely aimed for more advanced riders, intermediate riders can ride the trail as well.
The Downhill Trail's official opening was originally scheduled for Saturday morning, according to VARDA, but in anticipation of poor weather — the trail opened early.
The informal opening on Friday was posted to the Valemount Bike Park Facebook group, and those who were available hit the trail.
"The forecast called for terrible whether throughout the weekend," says Pawliuk. "We knew people wanted the chance to ride."
The bike park has become a huge advantage for Valemount's community, according to Pawliuk, and VARDA has full intent on continuing with its efforts.