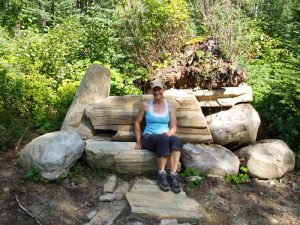 by GOAT STAFF
McBride's newest multi-use trail is ready for public use, and no, we aren't bluffing.
The Robson Valley Mountain Bike Association (RVMBA) has announced the trail, named The Bluff Trail, is ready for hiking, trail running, horseback riding, mountain biking, dog walking, snow shoeing and un-groomed cross-country skiing.
The trail is said to be roughly five kilometers in length, and is named after the rock bluffs situated throughout.
To access the trail, people must go to the west end of the parking lot at Km1 on Rainbow Rd.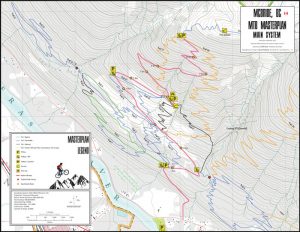 However, day-use equestrian riders can access the trail from a staging area at the northeast corner of Koeneman Park — adding four kilometers to the trek — as Rainbow Road is not recommended for horse trailers, according to the RVMBA.
Although the trail is rated as easy, there is roughly 100 meters of elevation change throughout the middle portion. The trail follows an existing skid road to a junction that will climb through a mixed forest of pine, cedar and fir, before looping back.
The trail has two viewpoints, with the lower viewpoint about 1km from the parking lot on the left hand branch at the junction, and the top viewpoint roughly halfway around the loop, just before the highest point of elevation.
The trail is part of the McBride and Teare Mountain Bike Trail Network, according to RVMBA, a trail system planned for McBride by professional trail builder Joel Pirnke.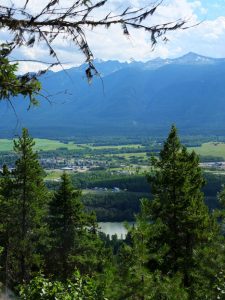 Funding for the McBride and Teare Mountain Bike Trail Networks has come from Recreation Sites and Trails B.C., the Regional District of Fraser-Fort George, McBride Community Forest, Omineca Beetle Action Coalition, Northern Development Initiative Trust, Back Country Horsemen of BC and BC Horse Council.
The RVMBA is a non-profit society whose mission is to promote an active lifestyle, community involvement, and inspire fun times through the creation and maintenance of recreational trails in the Robson Valley. The RVMBA says it will continue to build new trails, while refining existing ones to the required standards.
In addition, the RVMBA also built a pump track in the Village of McBride earlier this summer, in hopes of creating and inspiring youth to mountain bike.