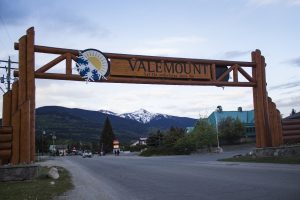 by EVAN MATTHEWS
If council has its way, soon Valemount will have a brand new fast-food chain and gas bar to roll up to, and shovels could be in the ground within three weeks.
At the June 14 meeting, council passed a motion to give a development permit to Maxx FX Developers. The plan? To develop a 3,600 square foot Esso divided into a convenience store and Tim Hortons.
"I didn't know it was happening in three weeks," Councillor Hollie Blanchette said at the meeting. "I'm very excited about it."
The new restaurant and gas station, according to the administrative report, will be located at 5th Avenue and Swift Creek Road, in the empty lot beside the Canada's Best Value hotel.
Visually, the storefront will have a western theme, according to a Maxx FM representative who addressed council. The store entryway will be made of cedar columns, he said, with the store on one side and Tim Hortons on the other.
An administrative report states, however, that no more than 150 square meters of the building's interior can be designated as a convenience store.
The proposal shows the gas bar will dispense three different types of fuel, along with diesel; the canopy will be lit with LED lighting.
Councillor Owen Torgerson asked council about the last time a traffic study was submitted. Corporate Officer, Mark Brennan, said a traffic study wasn't required for the project, as the level of traffic in the area was expected upon zoning and surveying of the land.
The Maxx FX representative says they've been working on this for a long time, and they want to get started, within a few weeks, if possible.
The report, which is signed by Mark Brennan and the Chief Administrative Officer, Mark Macneill, reads, "In staff's opinion this is an ideal development for this site and should be encouraged. All technical requirements are met. As far as development permit requirements the proposal ranks very highly."
The report goes on to say, "Technical issues may arise at the building permit stage, but staff are recommending immediate approval of the development permit."