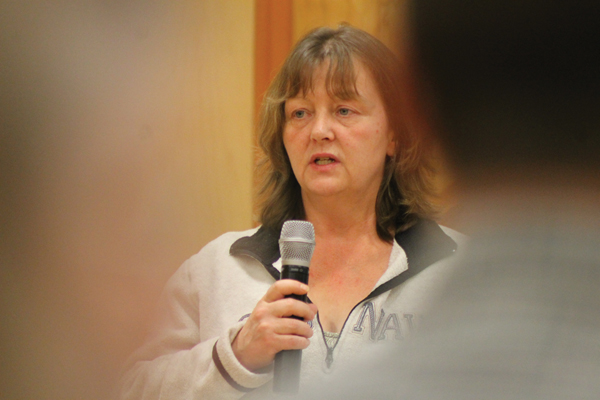 The Village of McBride operated with a deficit of $367,000 in the 2015 year, according to an audit done by the Prince George-based accounting firm, KPMG.
At the June 28 McBride Council meeting, Chris Calder, a KPMG manager and chartered accountant, presented the Village's audited financials to the mayor and council.
By presstime, no one at the Village of McBride could explain to the Goat why the Village was in the red last year.
Calder noted the Village had invested $220,856 into its Community Forest, and if the number were subtracted from the deficit, roughly $150,000 would remain.
Many councillors spent the next portion of the meeting trying to figure out how much the village had spent on the lagoon.
Kelley Williams, village CAO, told Councillor Ralph Bezanson that the lagoon only makes up a small portion of the deficit. Neither Williams nor Council nor the mayor were able to figure out what they had paid on the lagoon or what account it came from.
"What account was it? Was it magic?" said Councillor Rick Thompson, as he tried to figure out what village bank account paid for the lagoon. "There's nothing at the end of the rainbow."
Kelley Williams responded by saying she didn't know what account it came from, and until the Chief Financial Officer was back from vacation, the insight Coun. Thompson was looking for would have to wait.
"We'll leave it as unfinished business then," said Coun. Thompson.
"I'm happy to," said CAO Williams.
As the motion to accept the audited 2015 financials was set to pass, Coun. Thompson raised another concern. He said this was the first hard copy of the numbers he had seen, with Coun. Bezanson agreeing.
"Maybe I'm missing something, but I need some kind of clarification on these numbers," said Thompson.
Williams offered Thompson a private meeting to give him some "pen to paper time."
Coun. Thompson went on the record opposing the motion as the meeting had to move along, but the motion to accept the 2015 KPMG audited financials carried.
After obtaining a copy of the audited financials from the Village of McBride, The Goat confirmed the numbers in the report with KPMG, although KPMG would not comment on where the Village was losing money or how the Village could rectify its situation.