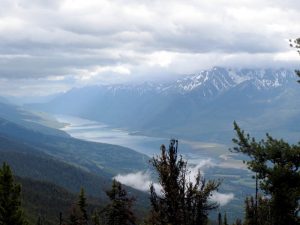 The water level in the Kinbasket Reservoir water is even lower than last year, and B.C. Hydro says it's unlikely the reservoir will reach full pool this year.
The current water level is at 750.1 metres, and is expected to rise one metre over the next week, according to B.C. Hydro's weekly forecast. The actual elevation of the reservoirs are influenced by snowpack, inflow levels, weather patterns and load requirements.
B.C. Hydro can bring the Kinbasket Reservoir up to roughly 754 metres (or full pool) based on their license, according to Korie Marshall, who noted forecasts can be wrong.
Marshall spent the last two years as a member of the Valemount Marina Association Board, and is currently contracted as the caretaker for the marina and campground.
B.C. Hydro has forecasted a dry year, not so much in B.C., but down in the United States. To compensate for the dry weather down south, reservoirs in the Columbia system must be let out, causing the water level in Kinbasket to drop, says Marshall.
Last year the Kinbasket Reservoir was roughly 11 feet below full pool by the middle of July, Marshall says, and it had never been that low at that time of year.
This year, B.C. Hydro expects the reservoir to stay at roughly seven feet below full pool, Marshall says, which is good because it means much of the wood debris on shore won't end up back in the reservoir. But too low can also be a bad thing.
Marshall says if the reservoir isn't high enough, they have to throw the docks really far out and we move them manually. The cables only go so far, she says, and if the water is too low the docks may not get in the water, so people can't launch their boats.
B.C. Hydro is trying to bring the Kinbasket Reservoir levels up in order to reduce the levels at the Williston Reservoir, so they can do maintenance, Marshall says, maintenance that was needed 20 years ago.
Williston isn't the only reservoir in need of maintenance, Marshall says.
When they originally built the marina, the constructed a point out of rock, and it was fairly wide, Marshall says, but in recent years has eroded due to waves.
"Without that point, we don't have a marina," says Marshall. "B.C. Hydro built the point and they have the water license, but they also have a responsibility to ensure people can still use it."