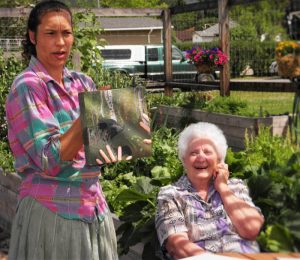 by MONICA MARCU
We had them all in the garden last Saturday: a sunny break, life memories and stories, beautiful artwork, a lovely group of people, music, and even a carrot cake with ice cream and raspberry. All these – framed by bountiful vegetables and blooming red poppies.  "The Art of Memory in the Garden" took place in the Open Gate Garden, in McBride, and it was well attended by a group of enthusiastic members of our community.
How did this event happen and where did this idea come from?
Last April, local storytellers and artists gathered with facilitators from the Prince George Community Arts Council for a workshop titled "The Art of Memory."  The storytellers/historians shared their memories and recollections of earlier times in the Robson Valley, while the artists listened. Then, each artist chose a story to illustrate.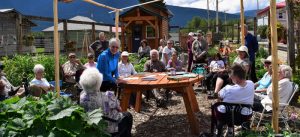 The creations resulted from this meeting were showcased last Saturday.  The artists presented their artwork, and the storytellers recounted some of their life memories, while we had the opportunity to enjoy them all. The participants of the project were Robert Frear, Bridget Uhl, Liz Haan, Lexi Elliott, Suzanne and Jon Mazereeuw, Nancy Taylor, while Sheilagh Foster acted as event host.
To add to the success of the meeting, we had the occasion to celebrate a birthday! Norma Arneson turned 85, and the organizers surprised her with a delicious cake and music played by Coral-Ann Mazereeuw (electric violin and loop machine).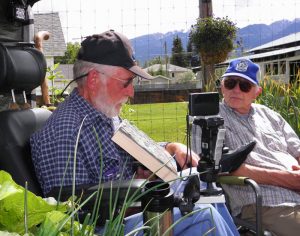 The participants also planted the seeds for other future collaborations involving stories, art and plants: "Mandala in the
Garden"- a future project involving seniors, but not only… Stories about the gardens would be captured and visualized by the attending artists (of any age) on a mandala.
Let's remember what a mandala symbolizes – in Sanskrit, a mandala is a spiritual circle (or diagram) representing the universe, the cosmos. Judging from the success of last week's event, we can only hope to celebrate again (and soon) the life, memories and gardens, but especially our local seniors – the pillars and builders of our community.