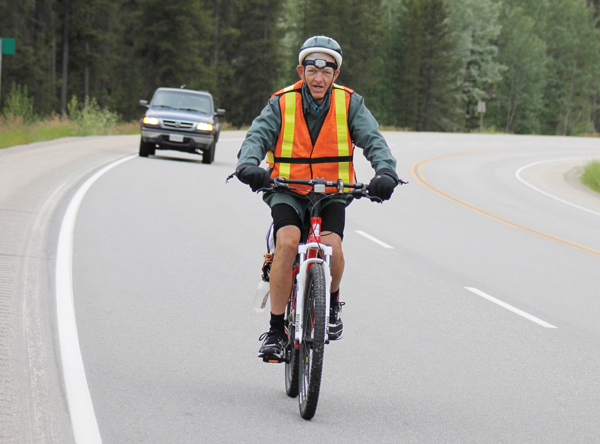 by EVAN MATTHEWS
Setting a world record is no easy feat, and for one McBride man, he says he's going to do it with or without the support of the library he once donated to.
Seventy-year-old Vern Pawloske, is planning his second annual hike and bike, but the McBride Library says they are concerned for his health and well-being, and would rather not have their name attached to such a grueling trip.
"Nobody is going to tell me I can't do it," says Pawloske. "I cycle 75 km in a day, easy. I'm on the road all the time and I'm in good enough shape. It's on me, no one else."
Pawloske said the library actually asked him to do it again at the end of his last excursion, and according to him he said, "Sure, but next time is going to be a more extensive trip."
The reason Pawloske chose the library, he said, is because he goes there a lot, and they help learn technology.
"They trained me to use the computers," says Pawloske. "I'm on Gmail, and on Facebook. They even help with my cell phone.
They need a new building and funding, so I wanted to give a little back."
Last year Pawloske hiked and biked a total of 200 km steady, and by the end of his trip had raised over $7,000 for the library.
"Why would they turn the money down (this time)?" Asked Pawloske. "Maybe it's just a miscommunication… I know my limits."
But this year Pawloske is upping his total trip to 500 km without any major stops, he says, which is why the library says it's hesitant. Pawloske noted if clearance from a physician would help put the library staff at ease, he'd be happy to oblige.
"I just don't go (to the doctor) regularly," says Pawloske. "I'm healthy, so why should I go?"
Last year's trip saw Pawloske ride to Mount Robson, where he says he cycled the Berg Lake Trail to Kinney Lake. He then parked his bike and hiked all the way to Berg Lake.
"I want to go up there again," says Pawloske. "On my way back, instead of coming home I want to go to Jasper. Then I'll come back through Tête Jean, Valemount and McBride."
Nobody has done anything like this before, according to Pawloske, and he says after checking the Guinness Book of World Records — just as he's set to turn 71 — he wants to be the first.
"I would like to set a record for myself," says Pawloske. "If I ever get old, I can say, 'hey, I did this.' Maybe the whole province would sit up and take notice."
On a semi-related note, Pawloske says people often rip him about his age, and it bothers him because he doesn't want to be classified as an old person.
"The people my age, I don't have much in common with them," says Pawloske. "I don't want to be sitting around. I'm more comfortable with younger people."
Pawloske says he's aiming to leave between the June 15 – 20, and he's looking forward to others riding along with him during portions of his record-setting trip.
He says he will approach the library again about pairing before he leaves.