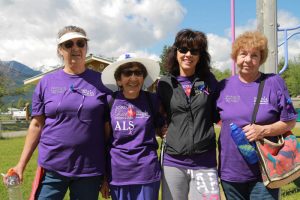 by LAURA KEIL
Three helium balloons were let go above Centennial Park on Saturday to mark Valemount's 3rd annual ALS walk.
Organizer Sherry Tinsley started the walk three years ago after her friend Marilyn Anthony was diagnosed with ALS, also known as Lou Gehrig's disease.
In a speech to the crowd of two dozen participants, Tinsley said the walk is more than a fundraiser.
"It gives people living with ALS and their families moral and emotional support. It shows ALS families they are not alone."
Tinsley says she visited Anthony's grave last weekend in Merritt.
"Standing at her grave site, we ask why. Why Marilyn? How fair is this that her life be taken by a disease they can't find a cure for."
Anthony's sisters Dolly Odinson and Gwen Suzuki travelled from Merritt for the walk. Odinson spoke about the terrible ordeal her sister went through at the end.
"It was so hard to watch her at the end. She couldn't walk, couldn't talk."
Odinson says her sister worked many jobs in Valemount over the years including as a waitress and a cook.
"She was friendly with everyone. If she didn't know them, she got to know them."
Tinsley said they raised about $2000 this year but pledges are still coming in. She says next year she hopes to incorporate another obscure disease support group into the walk to raise awareness for their concerns, and increase participation.