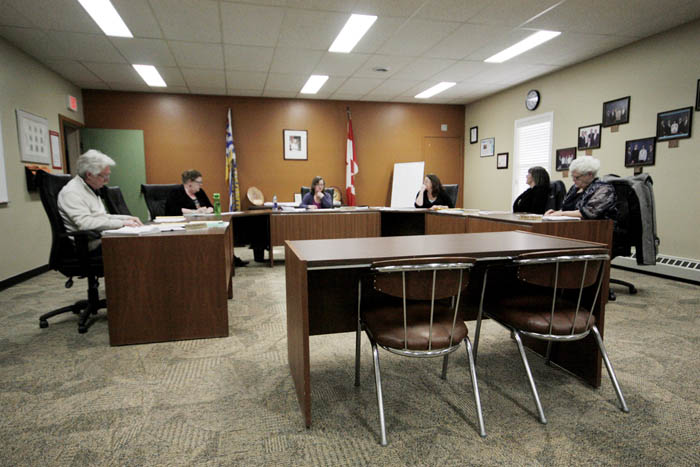 McBride Council (seen above) finalized an agreement with CLAC last week.
by LAURA KEIL
The Village of McBride and the union representing seven of its employees have reached their first collective agreement after a year-long negotiation.
The Service Health, Manufacturing and Allied Workers Union, CLAC Local 501, representing employees of the Village of McBride and McBride Community Forest, finalized their first Collective Agreement with the Village on March 23rd.
"After a year of difficult negotiations we are very pleased that we have been able to come to an agreement," says Audrey Wilkinson, CLAC representative.
BC Labour Relations Board mediators assisted the parties in reaching an agreement after negotiations stalled in the fall of 2015.
Allegations ran on both sides, with CLAC alleging the Village was not bargaining in good faith and Mayor Loranne Martin alleging that CLAC tried to "circumvent" the bargaining process by committee meet directly with Mayor and Council (the employer) rather than Council's bargaining committee.
On Feb 4th employees of the Village of McBride and the McBride Community Forest who are part of CLAC Local 501 voted strongly in favour of a strike, should negotiations continue to fail.
The positive strike vote was followed by a successful mediation and the employees did not end up going on strike.
"The Board's mediators were instrumental in this process." says Wilkinson. "We would like to thank the Board for its service."
The Village of McBride has not yet issued a statement, but during negotiations Mayor Martin emphasized that McBride is a small community.
"You've got to remember we're a community of 586 people We have to be very careful when we do these things that they're financially sound."
The union says the agreement provides for wage and benefit improvements, increased sick time allotments, job security measures and a "robust" conflict resolution process. CLAC and its members in McBride say they are confident the Collective Agreement provides a framework for a successful employee-employer relationship.
"This Agreement will help us establish a fair and respectful working relationship with the Village of McBride," Wilkinson says.