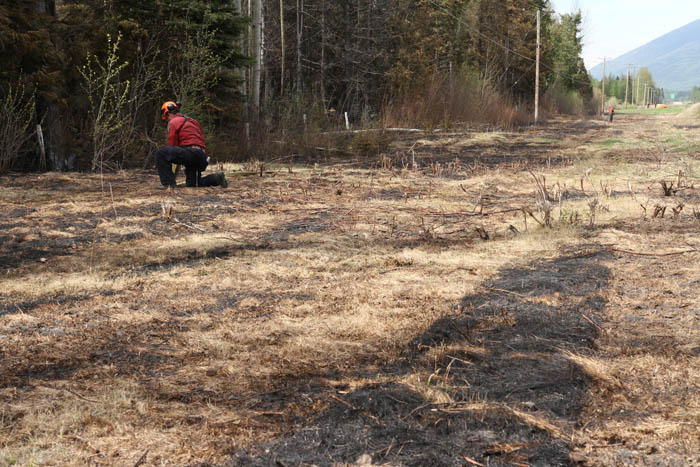 by KORIE MARSHALL
Mainly dry and warm conditions, with temperatures above seasonal averages throughout the region, are increasing the risk of fire throughout much of the eastern and northern areas of British Columbia.
A small fire briefly closed Highway 16 just east of McBride on Monday, April 18th. Amanda Reynolds, spokesperson for the Prince George Fire Centre, says the fire was started by a branch that hit a power line. The highway has reopened, but Reynolds says they have a total of 11 firefighters as well as a water tender on the scene as of Tuesday morning.
There are currently two fires in the Robson zone, says Reynolda, with another 16 in Dawson Creek and 21 in the Ft. St John.
Between April 1st and 15th, 12 fires had burned 88 hectares in the Prince George Fire Centre, says a recent news releas. BC Wildfire Service crews or local fire departments had extinguished four, while the other eight were still in the patrol stage. All these fires are suspected to be human caused, the result of grass or pile burning.
Anyone wishing to light an open fire must watch for changing weather conditions and follow all burning regulations to reduce the number of preventable wildfires. No fire of any size should ever be left unattended. Industrial burns or grass burns larger than 0.2 hectares (Category 3 fires) require a burn registration number. Call 1 888 797-1717.
If an open fire escapes, the individual responsible may be held liable for fire suppression costs and damages. Currently no burning prohibitions are in place in the Prince George Fire Centre, but the public is advised to check the BC Wildfire Service website: bcwildfire.ca/hprScripts/WildfireNews/Bans.asp
For up-to-date info on current wildfires, burning restrictions, road closures and air quality advisories, visit www.bcwildfire.ca or call 1 888 3-FOREST. To report a wildfire, unattended campfire or open burning violation, call 1 800 663-5555 toll free.