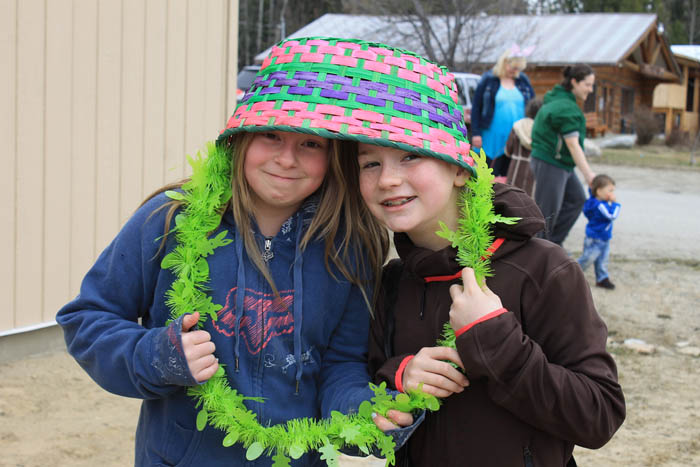 The Valemount Lions Club again hosted an exciting Easter Egg Hunt this weekend, with dozens of local children scrambling for eggs hidden in the nearby Library and Museum lawns, with younger children searching the back lawn at the club. Kids then exchanged their plastic eggs for a treat bag and lunch inside the club.
And that's not all the Lions have been up to. President Barb Shepherd says with funding over the last year from Northern Development Initiative Trust, Columbia Basin Trust and the Canada 150 program, the club has been able to upgrade the hall bathrooms, kitchen and catering equipment, bringing over $250,000 worth of business to local businesses.
Shepherd says the success of the upgrades is evident in the number of destination weddings the Robson Valley and Lions Club have been able to attract for 2016.
"We were surprised at the number of inquiries we have received for this year alone," says Shepherd. She says destination weddings have shown steady growth over the last two years, and any inquiries they've received that are too big for the club have been passed on to other local venues and caterers.
The club was also successful in its 2016 BC Gaming Grant application, again passing $1,500 each on to five local youth programs (Junior Curlers, Canoe Valley Skating Club, Minor Hockey, Youth Soccer and Canoe Valley Community Association) under its Rural Youth Initiatives program. Shepherd says they also offer a hockey camp and educational bursaries each year under the program.
And they have more planned for the future. Under the Lions' Community Emergency Grant Program, the club is ready to help members of the community in need with time, equipment or funding. Shepherd says their alternative energy conversion project, planned for 2017, is designed to extend their ability to help the community in case of emergencies like extended power outages.
The Lions also presented $400 to the Valemount Volunteer Fire Department recently, proceeds from a recent casino night.