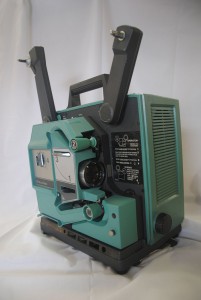 BELL & HOWELL PROJECTOR
Founded in 1907, the Bell and Howell Company saw the majority of its business in the form of repairs to movie equipment produced by other manufacturers. Within 12 years of being founded, close to 100 per cent of the equipment used to make movies in Hollywood was manufactured by Bell and Howell. Since its formation, Bell and Howell was an innovative company, creating the first home use spring driven 16mm camera (which was on backorder for over seven years), to microfilm, to the first all metal motion picture camera. Today, the company has diversified considerably, taking on an entirely different direction from film to mail and messaging technologies.
This particular projector made by Bell and Howell, model '1580', was manufactured in 1979 and used at Kawchuks' Rainbow Theatre, on Main and Third Street. The current building at this location, which now acts as the home for the Mountain Chapel, is the second movie theatre built in this spot, but was in fact McBride's third movie theatre. The original theatre in this location, built by Fraser Taggert, burned down with all of the original projection equipment inside. McBride's first theatre, built in 1914, was the Empress Theatre (today's Elks Hall), which had its own glorious history. Across from Koeneman Park, McBride's fourth movie "theatre" was a fairly active drive-in for several years.
Model 1580 was a fairly common projector, and was used extensively in schools and theatres due to its ease of use. Today, this projector is not particularly unique, but what is special is McBride's love affair with movie theatre culture.
Have your own memories to share? Join our Facebook group "Valley Museum Living Legacies" and add to the discussion.