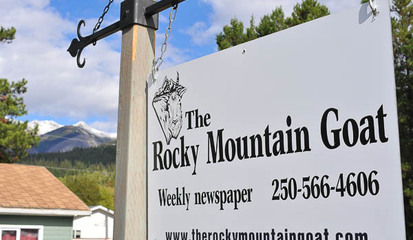 by LAURA KEIL
The Rocky Mountain Goat newspaper is among three newspapers in its circulation category nominated for Newspaper Excellence in B.C. this year.
The B.C. and Yukon Community Newspaper Association has shortlisted three newspapers in the under 2000 circulation category. The winner of first, second and third will be announced at a gala in Vancouver May 7th.
Last year, the Goat placed first for Newspaper Excellence in its circulation category. The award recognizes excellence in editorial, graphic design, photography, and layout, among others.
"The Goat team is always trying to find new and better ways to serve our local readers and advertisers," said Publisher and Co-owner Laura Keil. "We are honoured to be recognized by the BC Yukon Community Newspaper Association again this year."
The Goat started as a 12-page newspaper in June 2010. The Goat is one of just a handful of independently owned newspapers in B.C.
Over the years the Goat has had many contributors and staff members that have contributed to its success. We thank everyone who has invested their time and energy into making the Goat run smoothly as well as into something people pick up each week.