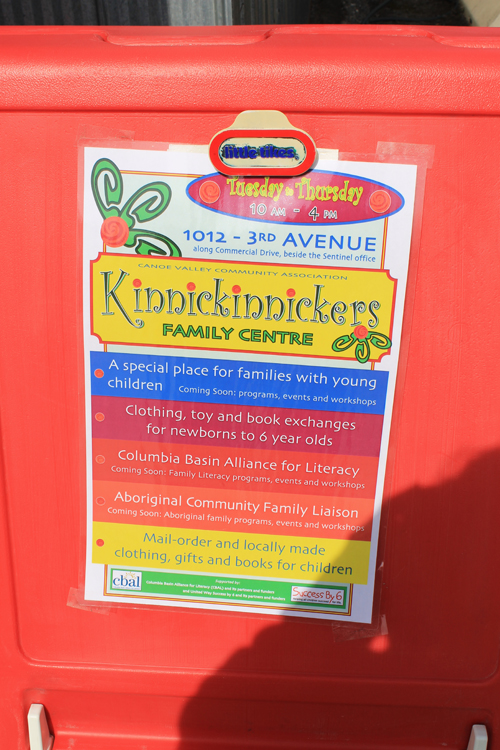 by KORIE MARSHALL
A local association is running one of 28 projects approved to receive funding through Columbia Basin Trust's Social Grants.
The Canoe Valley Community Association, which runs Kinnickinnickers Family Centre, is working on a project to expand its programs focused on family, child and parenting support, and to improve their sustainability by developing additional revenue streams. The association has been approved for $96,600.
Kinnickinnickers is very important to families in the Valemount area, says Centre manager Diana Smith. "For parents to know they've got somewhere to find a pair of winter boots for their kid, exchange toys or books, somewhere they can feel supported, or learn to do something new, it can take the stress of other areas," says Smith. She says they have secured funding now to run the centre for two more years, which allows the association to focus on expanding other programs, like the cross-country ski and curling programs, after school programs, and summer programs. And they are always on the look-out for new ideas for programs and partnerships.
The centre opened in 2013, offering a place for families with young children to meet, share, learn, and help each other build strong families, and a strong community. It has rapidly expanded its toy, book and clothing swap program, and now offers adult clothing as well.
Over $1 million is being awarded across Basin this year through CBT's Social Grants program. Since its launch in 2012, the Trust has been able to distribute slightly over $4 million to improving social well-being in our communities. Granting decisions are made by the Social Grants Program Selection Committee, a volunteer group of Basin residents that includes individuals who have experience and expertise in the social sector and individuals who have broader community development experience.
"Through these grants, we're able to help social service organizations meet the needs of Basin communities and residents," said Liz Gillis, Columbia Basin Trust Manager, Social Initiatives, in a news release. "These projects will positively impact health and well-being throughout the Basin."
Columbia Basin Trust supports the ideas and efforts of the people in the Columbia Basin. To learn more about the Trust's programs and initiatives, and how it helps deliver social, economic and environmental benefits to the Basin, visit cbt.org or call 1.800.505.8998.