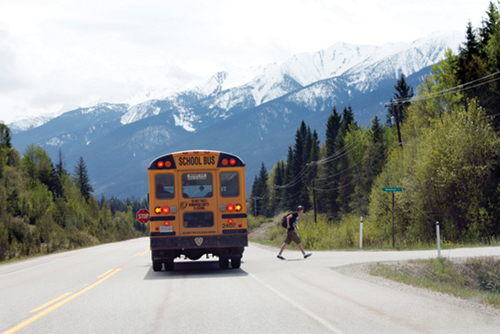 by KORIE MARSHALL
Like many school boards in British Columbia already do, School District 57 is considering charging a rider fee of $100 per year for students using the bus.
During the school board's Jan 26th meeting, the recommendation to implement the $100 rider fee was referred to the budget consultation committee, says board chair Tony Cable.
The tentative plan is to implement the fee starting July 1st, 2016, to a maximum of $300 per family. The district's financial hardship policy will apply, meaning the district would cover the cost of the family cannot afford the fee. The move is expected to save the district $263,000 on a transportation budget of about $4.5 million. SD 57's total budget is over $140 million.
In a post on the Prince George District Parent Advisory Council's blog, council chair Sarah Holland said the district is facing financial pressures from the provincial government, and she expects more serious cuts to come.
"People are encouraged to talk to their local MLA regarding these cuts to administrative spending – there is no 'low-hanging fruit' left, in this district," said Holland in the post, referring to comments from Premier Christy Clark regarding the $54 million in administrative cuts facing school districts.
In the post, Holland says the DPAC is concerned about the fee, the impact it may have on parents, and how it may be implemented, but also about the district's financial position.
In an update after the board meeting, Holland says the vote was four to three to send it to the budget committee for further review. She says it was clear in the discussion that lasted 30 minutes that board members were not generally in favour of implementing busing fees and downloading additional costs onto families.