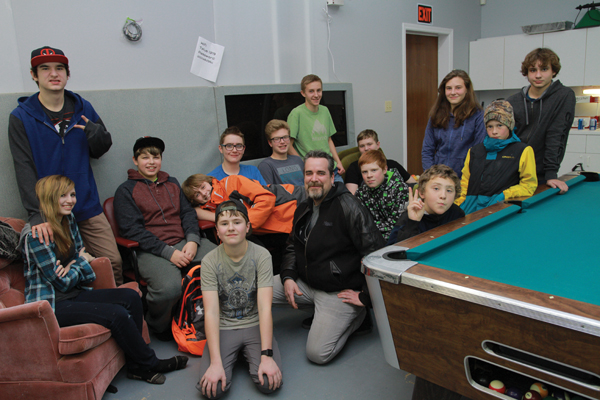 by LAURA KEIL
You can hear the strumming of an electric guitar from the back room and in the front room they're swapping stories about ski accidents: broken legs, twisted limbs, what's happened to them and what's happened to friends.
In the front room the young people sit backwards on office chairs or relax on mismatched couches. A couple computers and desks idle in the corner. In the back room is a shiny orange drum set and the sound of pool balls clinking. The smell of after school snacks – corn dogs, popcorn and hot dogs gradually fill the room with a homey aroma.
For many kids, this is their home after school, a place to hang out, a "launch pad" as one of the youths puts it.
Youth Coordinator Daren Sparks created the centre after doing a survey last winter about young people's biggest desire. The top choice – a drop-in space for youth.
"It gives them a place to own," Sparks says. "A place to bring them together, to increase their self-esteem."
But with ownership comes responsibility. Already Sparks is worried about what will happen when their current funding runs out in March.
The Valemount Learning Centre is handling the funding both for the youth centre and for the youth coordinator. VLC Manager Riette Kenkel says it's difficult to find money for ongoing operational costs – things like rent and utilities.
"Nobody seems to want to cover ongoing operating costs, and we just can't make enough money in fundraising to be sustainable on our own," she says. "We thought of charging membership fees, but that wouldn't raise enough funds to make it worthwhile, and could potentially create more issues than benefits."
The current round of funding for the centre – some $13,500 – covered the centre's operational expenses for nine months. A separate grant covered the coordinator. VLC plans to apply to the same grant again this year and another grant from the Regional District.
Sparks says he has been trying to find any money to keep it going.
"Just anything, to keep it open another day, another month," he says. "It'd be such a shame to lose it after putting so much into it."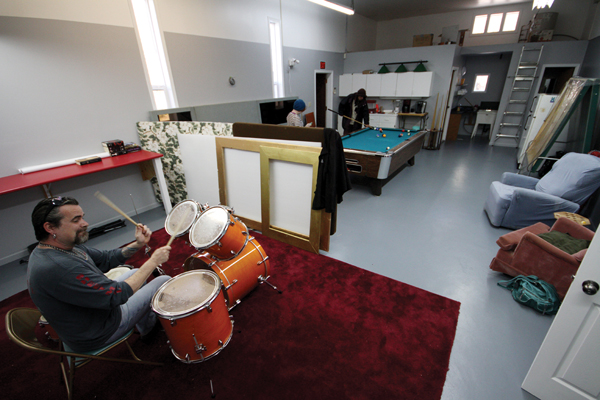 He says he's been bolstered by the high turnout of youth and positive feedback from their parents.
The centre is designed for youth age 12-19. Today the age range is between 13 and 16 and two dozen kids have turned out.
Andrew Bergen, a regular at the centre, says it's a great place to hang out.
"It's a staging area for after-school; a place to come before somewhere else. A launch pad."
"You can't shove 15 kids into someone's house," he adds.
Sparks says the atmosphere at the centre has been overwhelmingly positive. He quickly polices any disrespectful comments between youth, but generally the vibe has been good between young people of different ages and backgrounds.
Many of the youth clean up after themselves, and he sees certain leaders among the kids – those wiping out cupboards, sweeping, tidying up.
Sparks says he is grateful for the various donations that have been dropped to the centre over the last few months and hopes the community will support the CBT grant again next year. The grant is under the Community Initiatives and Affected Areas Programs, which is decided in part by a public presentation and vote.
To the youth, he has said it's up to them as much as him to keep the space.
"It's not mine; it's yours. So help me to keep it."