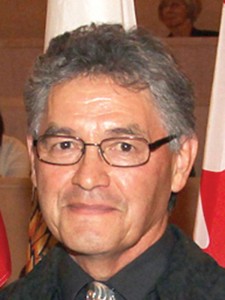 By: Korie Marshall
Nathan Matthew was acclaimed Chief of Simpcw First Nation on Sept. 20th, resuming a position he's held for several terms in the past.
Elections officer Bruce Mack says Matthew was the only candidate nominated at the September meeting. The by-election for Chief after Fred Fortier resigned was scheduled for Oct. 25th.
Mathew received a Bachelor of Physical Education and Recreation in 1972 and a Master of Education in 1990 from the University of British Columbia. According to his bio on UBc's website, he is a strategist, negotiator and spokesperson for First Nations peoples, focusing on quality education for Aboriginal people. "He is a leader in the local, provincial, and national dialogue on self-determination for Aboriginal education," says the bio.
Matthew was elected Chief in May 2011 after Keith Matthew resigned the previous December. Rita Matthew replaced Nathan in 2012. Nathan previously served on Council for 20 years, 17 of which as Chief.
Fortier was sworn in as Chief on June 1st 2015 after serving on Council for 26 years and as acting-Chief after Keith Matthew resigned in December 2010.
In a letter sent to the Simpcw membership and posted on the community's Facebook page, Fortier said he submitted his resignation on July 21 at the request of the Simpcw Council at its regular meeting the day before. The letter said there are certain obligations to make sure boundaries are not crossed under the code of ethics that chief and council sign when elected. Fortier apologized to the Simpcw membership for an email communication he says crossed that boundary.