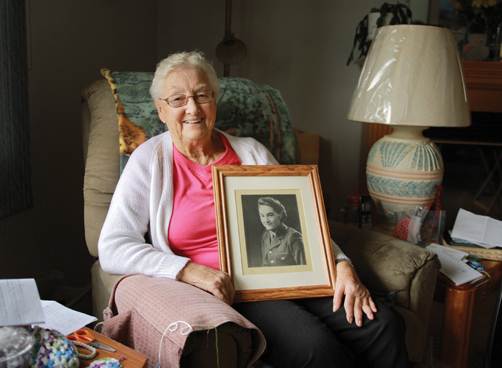 By: Monica Marcu
With a lovely smile and warm presence, Ms. Brightman recounts her war memories; it might be easier now after so many years, but she did not want to talk about war for many years, once it ended. She just wanted to come back to a normal life together with her husband, also a war veteran. Our discussion is enlivened by her four singing budgies who offer a joyful background to a not so gleeful theme. War is never a pleasant topic to me, as my family was affected terribly by it and both my grandfathers died in the WWII. As Ms. Brigthman puts it so well – if politicians want war they should pack their stuff and go fight it themselves! She feels so sorry for today's victims of war around the world; "war is terrible" she told me knowingly.
Margaret was born in December 1926 in England. In 1942, at 17 and a half she volunteers, as many of her friends, for the army. She was young and "foolish" enough (as she says) to succumb to "peer pressure." She lived in Sussex at that time. Enlisted as an Auxiliary Territorial Service (ATS) she was trained as a driver and auto mechanic in the British Army. There were numerous women enlisted in England then, either in the air force or the navy. Margaret used to drive many types of vehicles, including ambulances, large trucks transporting soldiers and equipment, and even sports cars. She remembers that after the war, once in Canada, she gave a helping hand here and there when others' cars needed tires changed. All to the surprise of the men drivers who did not know how to handle that!
One of her favorite jobs during the war was to be the private chauffeur for an officer who owned a sports car. "When we arrived at his home in the evening, his wife would invite me for dinner sometimes." Although she did not participate directly in combat, Margaret has witnessed the tragedy of bombings and destruction of cities, especially London, and villages. Her own family house was bombed three times. But she also tries to remember about some funny episodes of her staying in the army. "Blackouts were common at night, we tried to hide from the enemy." Even cars' lights were covered. "We had to cover the truck and had only tiny lights, so it was really hard to see in front." One night, she recounts that, as she was trying to return to the base, she was following a vehicle going, apparently, in the same direction. But that vehicle stopped suddenly and the driver came out to tell her "I don't know where you are going but I have arrived home!"
Margaret remembers also about the last day of war as the most wonderful of all. People of all ages were singing and dancing in the streets, there were laughter and joy everywhere. Margaret married a Canadian soldier and arrived in Canada on the 1st of July 1946, as one of the many English "war brides." She and her husband lived in Peterborough, Ontario, for 30 years, before moving to the Robson Valley in 1978. Her family has bought and developed the Mt Robson Lodge and camp property, where her daughter still works. Her other daughter lives in Kelowna. Margaret really loves the Valemount area, as she explains. Once she tried to relocate closer to her daughter in Kelowna but could not find a better place and house than her own, so she decided to stay in Valemount. She still drives her car and enjoys the mountains, and her many friends. Ah! And she also cares for her beloved birds and three dogs, when not organizing crochet meetings with her friends.