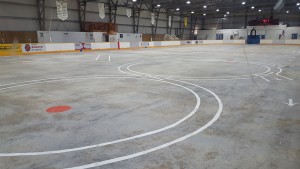 By Laura Keil
Upgrades to our local arenas means a slight delay in getting the ice in this year.
Facilities manager Lyle Lewis says the upgrades affect the ice plants at both arenas. In Valemount, they replaced the condenser which was 16 years old and "on its last legs" says Regional District Planner Terry McEachen. In McBride, they upgraded the pumps inside the plant which were outdated (hadn't been replaced since 1994). It also included an upgrade of the ammonia lines and brine lines. The contract was awarded to Fraser Valley Refrigeration through a competitive bid process for $129,228. Funding was supplied from the Community Works Fund supplied by the Gas Tax program.
Last year an ammonia leak at the Robson Valley Rec Centre in McBride caused the evacuation of the neighbourhood. McEachen says the relocation of relief valves was one upgrade they made in response.
There will be a free public skate launching the ice skating season on Oct 11th from 2-8pm at both
arenas. All are welcome. Normal ice programs will begin Oct. 13th.