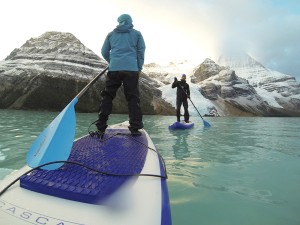 By Korie Marshall
Rich Kim and Hamish Farmer expected between 2 and 10 degree weather for their annual adventure. But cooler than expected temperatures, tons of rain and even snow made their early September weekend of paddle boarding in Mount Robson's glacial lakes even more extreme.
The seed for the adventure was planted last year. Kim says he biked into Berg Lake a number of years ago, and the pair took a chopper in to Berg Lake to do some hiking last year. Kim, an avid stand up paddle boarder (SUP), had the idea to paddle board Berg Lake and all the glacial lakes in the park some day. Farmer had never SUP'd before, but agreed to the adventure and knew he could learn while there.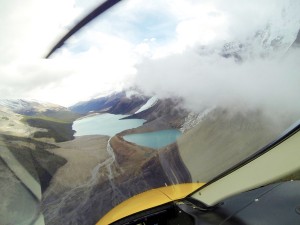 "My first paddle board was on Robson Lake, which was stellar – absolutely incredible," says Farmer.
Farmer's inexperience was one of the reasons they went with larger inflatable boards, which are more stable. But they are that much harder to lug around. Normally people are only allowed one pack when taking a helicopter into the Berg Lake drop in Mount Robson Park. But the pilot Matt Morrison of Yellowhead Helicopters was very accommodating to their needs, bringing two additional bags in for each of the guys. Three bags each carried their inflatable boards, paddles, camping gear and food for three nights, and the rest of their equipment. Flying the equipment back out on Monday was a little easier, since most people get dropped off and hike out.
They were prepared for rain through most of the weekend, but it was much colder than they expected.
"The weather was extreme the whole time we were out there, it made it that much more challenging for sure," said Farmer. The trip became a mission to do what they set out to do. A mission they accomplished, though not without a few surprises.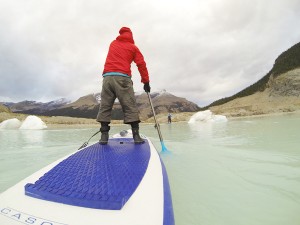 When they arrived Friday they set up base at Robson Pass. They'd planned to do two lakes, Berg Lake and Mist Lake, in one day but realized that was too aggressive.
"Given the extreme weather, it made it challenging to do one lake per day," said Kim, laughing. With camping and keeping their equipment dry, it was 11:30 or noon before they got to their first lake each day.
"Every day, we're like 'ah, do you want to do this again?' It became more of a mission than a fun adventure," says Kim.
The standard bag that an inflatable SUP comes in is like a potato sack, and it weighs about 55 pounds. They fashioned a barrel-type bag to carry the boards, but it wasn't comfortable, and they also had to pack extra food and equipment in case they got stuck somewhere. Mist Lake was 5 kilometres from their campsite.
"We probably only got to spend about 15-20 minutes paddle boarding on each lake," said Kim. The first day on Robson Lake was about 2 hours, moving around through the bits of glacier floating in the lake. They got some great photos, Farmer was still learning, but the high winds which picked up each day as soon as they reached the lakes forced them to get off rather quickly.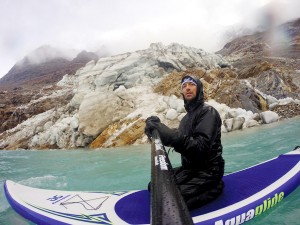 The second day was Mist Lake, which they got to spend about 45 minutes on – mostly because the wind made it difficult for them to paddle back to shore from the glacier. The boards are 12 foot 6 inches long, about two or three feet wide, and in the wind they can be hard to get back on to shore, especially since you are tired after paddling.
Day 3 was Hargreaves Lake, which was calm, and then a thick fog rolled in. It was eerie, says Kim and Farmer, and visibility was so limited once they got on the water they never even saw the glacier. And then it snowed.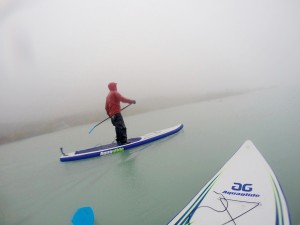 "We were wet and cold most of the time," said Farmer. They were grateful for the Hargreaves shelter, which offered a chance to dry off and warm up.
On Day 4, the helicopter was scheduled to come back for them at 9 am, but their mission wasn't yet accomplished. Kim and Farmer got up at 5 am and hiked straight to Berg Lake, reaching the edge at 6:55 am. Their mission finally accomplished, they still had to break camp and make it to the pick-up point, as the pilot wouldn't be able to wait for them. Luckily they made it there just in time, but unfortunately the chopper was late due to low visibility. But by the time they decided to make some coffee, they weren't able to drink it as the chopper was finally coming in for them.
Kim and Farmer say they hope to hike and ski Mount Robson some day, but for now, they are quite satisfied with their Alpine SUP adventure.