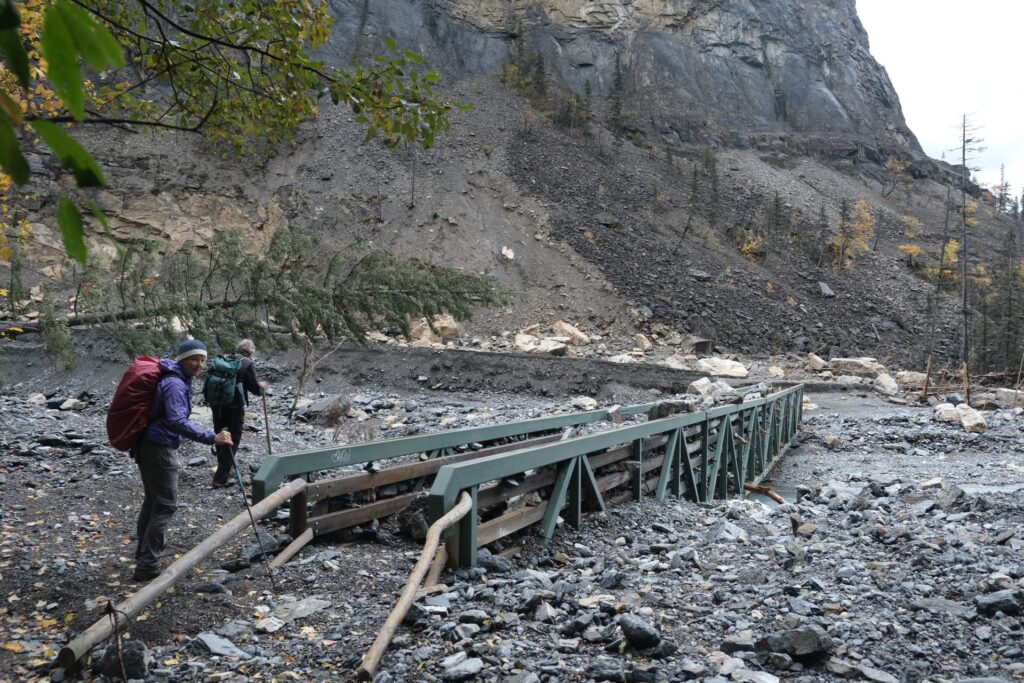 By Andrea Arnold
BC Provincial Parks has announced that the Berg Lake Trail will be closed to visitors this summer and work on the upper part of the Berg Lake trail in Mount Robson Provincial Park will not be completed until 2025. The hope is to open the trail to Kinney Lake in the summer of 2023 , Kinney Lake to Whitehorn in 2024, Whitehorn to Berg Lake in 2025.
The trail has been open during the winter, but will close April 1st, 2022, to rehabilitate the area after major flooding damaged the trail and wiped out several bridges in early July 2021.
High temperatures and excessive amounts of rain caused water levels to rise overnight, high enough to cover picnic tables, swallow trails and pummel bridges. 250 hikers were on the trail at the time. Many were able to get themselves to safety while 27 individuals along the upper portion of the trail were evacuated by air.
The BC Parks website says due to much of the trail being in a precarious state, and the likelihood of the Robson River changing course, the entire trail will be closed throughout 2022 to complete additional assessments and begin repairs.
"For 2022, BC Parks' focus will be repairing several bridges, updating the Kinney Lake Campground, and repairing the first 7 km of the trail (trailhead to Kinney Lake Campground). Due to the scale of damage, the brief construction window, and considering climate resiliency in rebuilding, BC Parks plans to reconstruct the trail over a staged, multi-year process."
In a report provided to the Goat, The Ministry of Environment said BC Parks is working with partners and contractors with extensive climate change knowledge to ensure all reconstruction work is done to be resilient to future climate events. They also report that a procurement process for an engineering firm to begin work is already underway.
"We're working hard to rebuild the Berg Lake Trail better than before while ensuring human and ecological health are protected," the report said.
In the first stage of restoration and construction, the parking lot will be expanded to accommodate the growing popularity of the trail.
On the heels of the announcement, the website also published information about alternative activities in the area. The Mount Robson campgrounds will be open, as well as Lucerne Campground, and visitors are encouraged to explore the other hiking opportunities available as well as boating, biking and rafting adventures.