By: Korie Marshall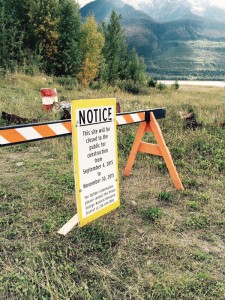 A popular camping site will get an environmental cleanup this fall, including dealing with some open water wells.
A former mill site on Kinbasket Reservoir on the East Canoe Forest Service Road, known locally as 12-kilometer, is a popular camping and recreation area, especially on long weekends. But the site is strewn with the remains of the mill, including the concrete floor and various chunks of concrete, pieces of metal and debris and two water wells.
Greig Bethel, spokesperson for the Ministry of Forests, Lands and Natural Resource Operations, says the Prince George Natural Resource District was made aware of a public safety hazard at the site in late 2014 – open water wells.
"As this area is a popular destination for local residents, the district began work in June 2015 with an environmental site assessment," says Bethel. "This assessment provided valuable information for the next phases of work, which will include cleaning up debris, and securing the wells and pump house."
Bethel says the site will be closed to the public from Sept. 8th to approximately Nov. 30th for the clean-up.
The ministry's Recreation Sites and Trails branch has designated some sites along the East Canoe road as camping areas, and maintains them under partnership with a local non-profit association. The site known as 12-kilometer and others like 10-kilometer along the reservoir are not designated camping or recreation sites, but camping is permitted for up to 14 days on undesignated Crown land, says Bethel. The ministry says all provincial laws and regulations must be adhered to, and asks that campers use common sense when recreating and enjoying BC's beautiful outdoors.