By Frank Green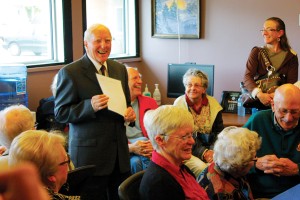 When asked about what Doctor Geoffrey Cowburn has meant to McBride, Nicolaas Mortensen immediately shot up a finger. It had a small scar from a long-ago stitching after a nail had left him bloody. Mortensen had no problem with the medical handiwork. Cowburn had literally left a mark on his life.
That seemed to be the case for nearly everyone at a ceremony last week renaming a room at the McBride and District Hospital in Cowburn's honor. People spoke of his compassion and special kindnesses, and then inevitably said that Cowburn had either delivered them, or their mother or their child.
That's what happens when you've been a small town doctor for nearly 50 years
"My husband said to say thank you for delivering him," McBride Mayor Loranne Martin said at the ceremony.
The community would be nowhere without Cowburn, Martin added.
Cowburn was born and raised in England. He worked there as a doctor for more than a decade, until the late 1960s, when he decided to leave because of what he called "excess socialistic principles."
"I didn't like the idea of giving up all the things we've been brought up on," Cowburn said. "Tradition, enterprise, freedom of speech."
And so he left for the wilderness of British Columbia. He was 40 years old.
He initially planned to work in Vanderhoof. But an acquaintance of his was the lone doctor in the Robson Valley, and desperate for help, so Cowburn changed his plans. Then that doctor left, however, leaving Cowburn in the same position. Cowburn was the only doctor in the Valley for several years, he recalled.
But he was an especially mobile doctor. He used to fly his plane into Blue River to see patients and deliver prescriptions—Highway 16 wasn't yet finished when he arrived. And when Cowburn took a break to fly for fun, the hospital ran a white sheet up to the roof to signal to him when there was a patient for him to see.
Above all, Cowburn is a doctor worth celebrating because he lived and worked in McBride for so long, well-wishers said.
"He stayed!" explained Charlie Leake, Cowburn's longtime flying partner and patient. "Others came and went. That's the big difference right there."