By Andrea Arnold
---
When he was 10 years old, Lieutenant Colonel Charles Leake (Charlie) had a child-size WWII Airforce uniform and model airplane he remembers playing with. Despite those early toys, it wasn't until Grade 13 that he knew he wanted to enter the Air Force. He spent many years of his childhood in McBride but attended Grade 13 in Prince George. During the year took an Airforce Entrance Exam for a Military College in Victoria. However, he failed the exam due to his lack of French language skills.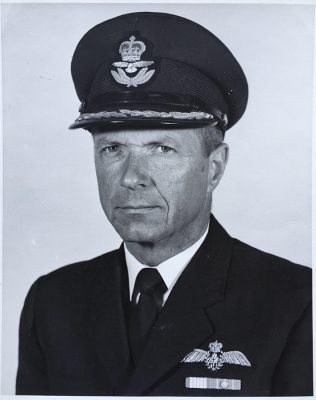 One of his school friends, Gerry Cunningham had been accepted directly into the airforce based out of Edmonton, spending a year working as ground crew before having a medical procedure that cleared him for advancement into air crew. Cunningham talked Leake into applying along with him. Late in 1950, at the age of 18, Leake took the first steps into what led to an almost 28-year career with the airforce and a lifelong love of flying.
Leake remembers his very first flight during the first two months of training. "The instructor took me on a familiarization flight," he said. "We went up in a Harvard. Normally the instructor would sit in the back while the student flew but on this flight the instructor flew. It was quite the experience. It set the tone for the next 48 years."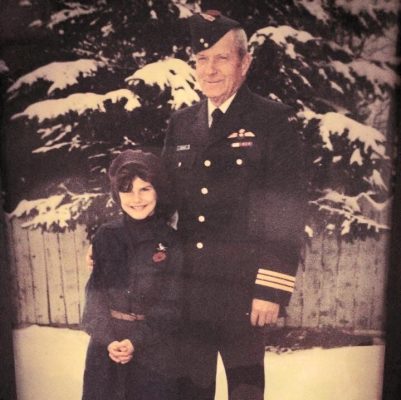 After completing his training, Leake was sent to Winnipeg, where he spent two years part of a Search and Rescue crew. It was work he really enjoyed. He remembers dropping supplies to stranded downed planes, specifically one plane in the Arctic. "The pilot had built a trench," he said. "We dropped in a bundle of supplies for him. Food, firestarter, warm clothes, that sort of thing."
It was during the two years in Winnipeg that Leake met the woman that became his wife, Patricia. Before his transfer to Trenton Ontario, the pair got married.
In Trenton, Leake began training as an instructor. He learned how to teach new pilots how to operate mostly the North American Harvard (The Yellow Peril), the same plane that he had his introductory flight on just a few years earlier. After his training, he was sent to Red Deer to instruct new recruits.
When his time in Red Deer came to a close, he was sent to Comox on Vancouver Island where he had the opportunity to train on CF-100 Canuck jets.These aircraft specialized in operating in all kinds of weather.
Leake's career took him to military bases all across Canada, and amazingly, on only one deployment. He was sent to Venezuela along with a fleet of CF-5 Freedom Fighter aircraft that had been sold to the Venezuelan Air Force. He was sent as part of a crew to train them in operation and maintenance of the aircraft.
"The CF5 was probably my favorite plane," he said. "It was a little fighter plane, fast, able to do everything you can imagine. It was used in training, on reconnaissance missions (it had three cameras), and in operational maneovers."
He enjoyed all aspects of his career. Even as an instructor, when he felt the most tired, the love of flying won out. This love and dedication led him to beings selected as part of a historic team in Canadian history. He and three other pilots got to participate in the first midflight refuel execution in Canada.The trip from Cold Lake Alberta to Baggotville, Qc was approximately a 4.5 hour flight. The F-5s he and the other were flying held enough fuel to cover about 2.5 hours. Over Hudson's Bay, he had to maneuver his aircraft into position next to the 707 Transport Refueling Tanker and position his plane's gas probe into the badminton-birdie-shaped nozzle on the tanker while maintaining speed, altitude and correct distance from the tanker.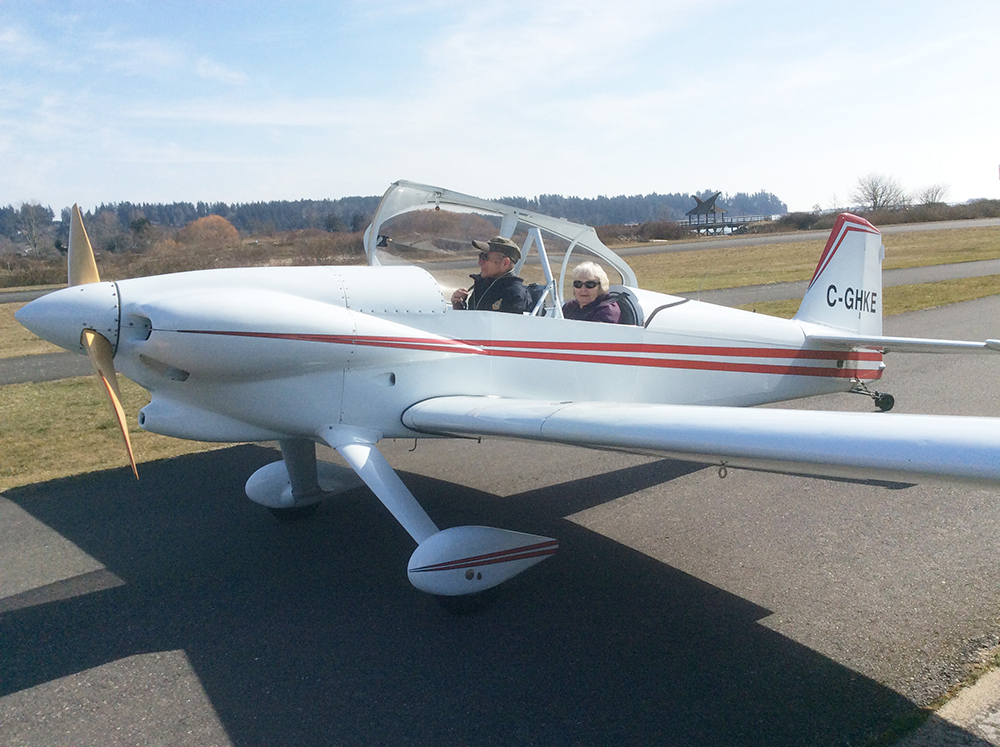 Leake served 27 years and a few days, and was granted 28 year status upon leaving the service. He feels very fortunate that during his years of service, as well as in the years since, he has had very few scares while operating aircraft.
"I had one engine failure," he said. "But I was already landing when the engine cut out, so I just landed and that was it."
He also recalled the heart racing moments when other planes have intercepted his flight path, crossing too close for comfort.
"Also, dealing with weather," he said. "All kinds of weather. But you always had something up your sleeve that could save you. Something like an alternate flight plan or landing location."
While Leake never had to eject from a plane in flight, they did perform drills in preparation for the worst. Wearing all their gear, parachute, life jacket and flight gear, from a stationary seat they pulled the lever that would send them shooting up a tower. Leake did apply to take a jump course at one point, but was told he would have to take a leave from the Air Force to participate, and "if I got hurt, I was screwed," so he decided not to pursue the option. He was the pilot on many flights delivering paratroopers, and medical personnel however, so he had to be well versed in all the aspects of a safe jump.
The final position Leake held was Commanding Officer of a helicopter squad based out of Edmonton. When the Olympics were held in Montreal Quebec in 1976, there was concern of military action from overseas. Leake was sent as Air Commander for the Air Force squads on site. He led a formation of 36 helicopters, the biggest one in history.
In the fall of 1977, Leake's mother, now a widow, decided that she wanted to leave McBride and move to Vancouver. Leake, having been presented with a transfer he didn't want to take, used the opportunity to step away from the service, and return home to McBride to take over the homestead.
Once home, he was presented with the opportunity to use Derrick Wright's plane and renewed his civilian flight instructor license. Using Wright's plane, he taught several locals how to fly. He also partnered with Ian Monroe, establishing CCI Avation. They transported people as well as supplies by float and wheeled planes.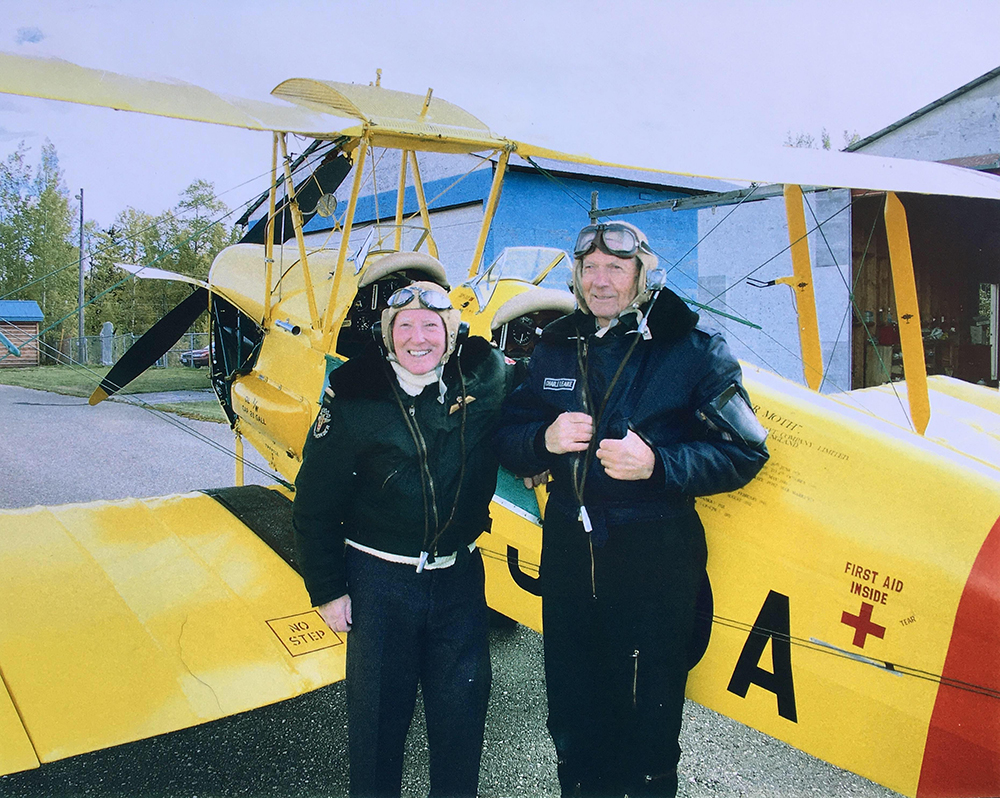 When local doctor Geoff Cowburn became unable to fly his Tiger Moth, Leake became his pilot, taking Cowburn up whenever the doctor needed to escape the stresses of life.
Kelly Mortenson took up the initiative to have the airport in McBride named after Leake.
"You have more landings and takeoffs here than anyone else," he said to Leake.
During McBride's 75th Anniversary celebrations, Leake was reluctantly torn away from the celebrations on mainstreet and taken to the airport. "Kim (daughter) found me and told me we had to go to the airport NOW," he said. "I didn't want to go, but she insisted. It was a total surprise. They had cake and I had to serve it."
Mortenson loaned Leake his plane so that he could be the first pilot to touch down on the newly named Charlie Leake Airfield.
Leake and his wife no longer reside in McBride, however they still return to the valley to visit friends and family.
Now at home in Comox BC, the 88-year-old has a two seater plane (one forward one back, like the first Harvard he flew in). A homebuilt Van's RV-4 with a bubble canopy.
"It flies like a fighter plane," he said. "I can even do aerobatics."
Leake still flies regularly, relishing the freedom to enjoy blue cloudless skies as he explores the island from above.