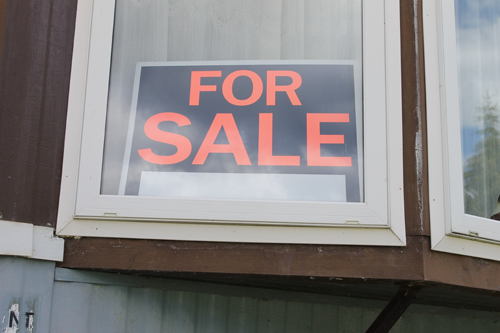 By Frank Green
There's a plan in motion to build a half billion dollar ski resort fewer than 10 kilometers outside of Valemount. If it happens, some worry that housing will become expensive and scarce, based on what's happened in other resort towns.
This could be great for current homeowners. They would have a windfall if they rented out space or sold out—the average value of a home in Revelstoke nearly tripled after their ski resort arrived, and nearly doubled in Golden after theirs was developed, according to 2010 data from Statistics Canada.
But it might not be great for renters, who make up more than a quarter of all the homes in Valemount, as of the 2010 numbers. If Valemount Glacier Destinations moves in, they'll have to compete for space with new employees and new vacationers—not to mention the hundreds of Kinder Morgan workers who'll come to town if the proposed pipeline expansion gets built.
And Valemount needs more rental housing as it is. Vacancy rates are near zero, said Jen Applebaum, a local property manager who has struggled to find space for prospective tenants.
"Everyone wants the mountain life. And I've heard a few people have come and left because they couldn't find suitable housing," she said. "Someone's gotta build something. We need a row of townhouses. We need another apartment building. We need something."
Even without the potential pipeline workers, the resort will drive up rents and make it harder for people to find proper places to live, said Jill Zacharias, the coordinator for the Revelstoke Community Social Development Committee. She recalled how a local optometrist wasn't able to go on vacation because their locum—a fill-in optometrist —couldn't find a place to live.
"Because of the lack of options you get people living in unsuitable, overcrowded situations," she said. "You get landlords just jacking up rent. You get people trying to make a buck at the cost of people living in good situations."
Landlords and tenants in Revelstoke filed about twice as many complaints against each other on average in the years after the town's resort began construction, in 2007, compared to the year and a half prior, according to data from British Columbia's Residential Tenancy Branch.
It's critical to build new and affordable housing, experts say. And they repeatedly point to employee housing as the way to do it, and cite Whistler as the most successful model.
If you develop a hotel in Whistler you have to either build housing for one employee for every five hotel rooms, or else contribute about $5,600 to the town's fund for building housing for people who work there. Same goes for every 50 square meters of commercial development, or 250 meters of industrial.
"If you actually want to have functioning communities where firefighters, nurses, teachers can live, you have to intervene," said Deborah Curran, a professor of environmental law and sustainability at the University of Victoria, who also co-authored a report on affordable housing for Smart Growth BC. "We have market failure."
Valemount Glacier Destinations has agreed to build 70 units of employee housing during the first phase of construction, when they plan to have about 300 people working either for or at the resort, said Tom Oberti, Vice-President of Oberti Resort Design, which is developing the resort. Originally, none was planned until phase two.
"It's the result of discussions with the Village of Valemount, who were concerned about the lack of suitable housing," Oberti said.
They plan to build 300 units of employee housing by the end of the project, when Oberti estimated there would be 400 to 500 people working either for or at the resort.
"We feel it's generous enough and won't bankrupt the project," he said.
"That sounds pretty good on their part," said Marla Zucht, General Manager of the Whistler Housing Authority. "Of course it'd be better if they did 100 percent," she added, meaning building enough housing for every employee they expected to bring in.
The project's approval hinges in part on the province's All Seasons Resort Guidelines. The Guidelines are just that—there are no hard requirements for housing, but the document recommends that 10 to 20 percent of a resort's total "bed units" go for employee housing. With the current plan for 300 employee beds and 2,000 for tourists, the project's employee housing stands at 13 percent of total beds.
But each community is unique, says Bill Hunter, senior manager with the Mountain Resorts Branch of the Ministry of Forests, Lands and Natural Resource Operations. "I don't think we'd take a solution from Whistler and apply to Valemount or Revelstoke or Sun Peaks. We're looking at different situations."
Experts also said Valemount has to be ready to make demands of the developers beyond the resort who'll come calling if the resort gets built. The Village should only rezone land, for instance, in exchange for affordable housing, said Tim Wake, an affordable housing consultant.
That affordable housing should be about half rental and half for ownership, Wake said, and ought to add up to 15 to 20 percent of the total units developed—which, in his experience, is about as much as a municipality can hope to get.
The rental housing ought to be restricted to people who work locally, Wake said, but wouldn't necessarily need price restrictions. That's because "secondary suites"—which are already legal in a substantial chunk of Valemount—naturally crop up in resort towns and help soften the market, as people renovate their basements and extra rooms in order to rent them out.
Ownership housing should be restricted to local employees, too, but also come with resale price restrictions, so properties don't just get flipped, he added.
"When realtors and the chamber of commerce hear 'resale price restrictions' they roll their eyes, they say, 'What're we talking, Communism here?,'" Wake said. "(But) your market real estate is only hitting the top 20 percent of income earners. What about the rest of them? What are they supposed to do?"
Still, Valemount has a lot of vacant, undeveloped land, pointed out local realtor John Peterson. 1,300 people lived in Valemount in 1995, while there were just 1,000 in 2010.
"Where did all those people live before?" Peterson said. "If there was a demand for something here, it would be filled very quickly."
"Right now our town is hurting, big time," he added. "We need some more people and some more taxpayers."
Valemount Mayor Jeannette Townsend didn't offer any specifics about the village's regulatory plans, and said that it was "early in the process."
"We have been discussing it at council," she said of affordable housing concerns. "We don't have anything firm at this point."