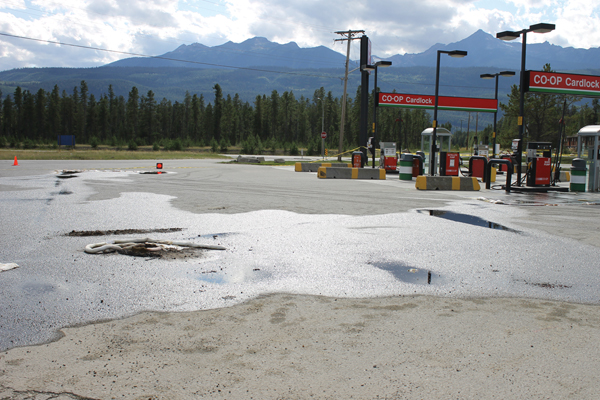 By Korie Marshall
A company doing an environmental assessment accidentally hit a diesel line at the Co-Op cardlock last Wednesday afternoon, costing the Co-Op both fuel and business.
Allan Bieganski, general manager of the Vanderhoof Co-Op, said he got the call about the spill on Wednesday afternoon. When he called the Prince George company they normally deal with to address environmental issues, they'd already been called out.
Bieganski says they lease the site, and understands the property has been up for sale. Phase 1 and Phase 2 environmental work are commonly required when purchasing commercial property and the company was likely hired by a prospective buyer. But Bieganski says his company wasn't contacted about the placement of the private underground lines including ones that connect the fueling pumps to the above-ground tanks at the east of the property.
Darlene Dyson, Operations Manager for BC One Call, says their service provides a communication link between the excavating community and the owners and operators of underground facilities who are registered members of the service.
By Friday morning, Bieganski understood the spill was cleaned up and the Co-Op's low speed diesel pump was operational for customers, but the high speed pump – used by large trucks that want large amounts of fuel quickly – was still out of commission, causing grief for their customers. He expects the high speed pump will repaired by mid-week.