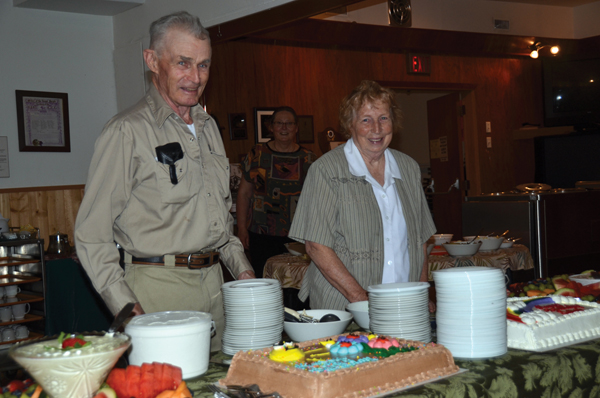 By Korie Marshall
The McBride Farmer's Institute hosted the District C dinner last weekend on May 30th, honouring some long-time members and being honoured by our local MLA.
Incorporated on March 17th, 1915, the Institute lobbied for roads, schools, trails, tourism and farming needs in a time when there was little government services of any kind in the ares. Likely the oldest still-active association in the valley, the Farmer's Institute's 30 members meet monthly and are still addressing issues of concern and providing agricultural leadership in the valley today.
At the annual district convention last weekend, MLA for Prince George-Valemount Shirley Bond presented the institute with a Century Farm Award on behalf of Agriculture Minister Norm Letnick.
"It is an honour to represent an area of the province that has such rich history and I want to congratulate and thank the McBride Farmers' Institute for their century of service," said Bond in a government release. "Very few organizations can boast about this kind of accomplishment and I am proud to present them with this special recognition."
"We appreciate the dedication of our early settlers who established the McBride Farmers' Institute and we look forward to continuing the legacy of representing farmers in the Robson Valley," said Marion Cousineau, Secretary/Treasurer for the McBride Farmer's Institute.
The convention dinner was also a good time to recognize the milestones of some long-time members, David Marsh and Sara Marsh. David's grandfather, George Monroe, was president of the Farmer's Institute from 1916 to 1921. Both David and Monroe's granddaughter-in-law Sarah Marsh turned 80 this past April. In the late 1950's, according to Sarah and recorded by Sheilagh Foster, the bachelor members of the Institute were responsible for making lunch for the meetings.
"The bachelor members at that time were Keith Sansom, Edgar Horricks, Brud (Keith) Nicholson and Jack Marsh. Soon after this decision was made Keith Sansom got married so he got out of the lunch making. On Saturday, Oct 4th 1958 Jack and I got married. Well, he couldn't back out of his lunch-making commitment because the next meeting was on Monday immediately following our wedding. So Jack got me to make the lunch. For some reason, it became my duty to make lunches from then on. Brud and Edgar never did have to make any more lunches even though they never got married."
But according to at least one local farmer, Ray Long, they'd been having problems getting members to attend the meetings, but once it was known that Sarah Marsh was making lunch, attendance picked up and remained high.
Created in 1994 to mark the centennial of the Ministry of Agriculture, Century Farm Awards honour agricultural organizations that have been active for 100 years and celebrate the rich heritage of farming and ranching families and organizations in the province.