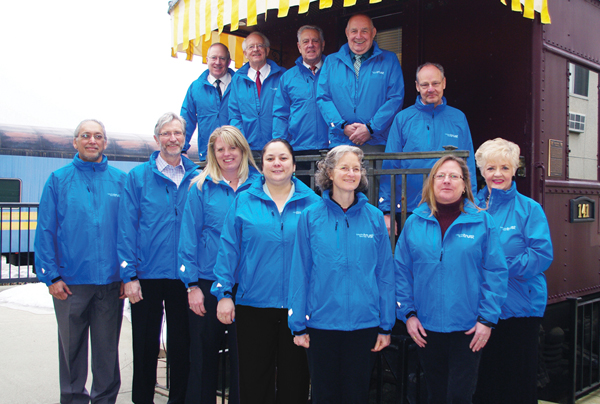 By: Korie Marshall
In March, the Columbia Basin Trust welcomed five new members to its Board of Directors as well as recognizing the contributions of the departing directors. New directors are John Dooley from Neslon for a three-year term, Larry Binks from Creston, Loni Parker from Revelstoke, Vickie Thomas, and Jeannette Townsend from Valemount, each for a two-year term.
Townsend is one of the Trust's founding Board members, and served as a director from 1995 to 2010. She is Mayor of the Village of Valemount, a role she also held from 1990 to 2008, as well as serving as Alderman from 1989 to 1990. She is a director with the Regional District of Fraser Fort George, and also served there from 1990 to 2008. She serves on the Columbia Basin Regional Advisory Committee and was Vice-Chair of the Valemount and Area Chamber of Commerce. She has been involved with many boards and committees, including the Omineca Beetle Action Coalition, Prince George Regional Advisory for the Northern Development Initiative Trust, the Union of British Columbia Municipalities, the North Central Municipal Association and the Trans Canada Yellowhead Highway Association. Townsend has lived in Valemount for nearly 30 years, working in real estate since 1989, and is currently Managing Broker at Valemount Real Estate. Her term on the CBT Board expires December 31, 2016.
Before a recent Valemount Council meeting Townsend noted she was happy to be on CBT's investment committee.
Three reappointed directors are Wendy Booth from Fairmont Hot Springs and Rick Jensen from Cranbrook, both for three-year terms, and Gord DeRosa from Trail for a two-year term. Jensen was also appointed Vice-Chair.
Also remaining on the Board are Chair Greg Deck from Radium, Laurie Page from Nakusp, Kim Deane from Rossland and Am Naqvi from Nelson.
Departing directors are Denise Birdstone from Grasmere, Cindy Gallinger from Elkford, Paul Peterson from Burton, David Raven from Revelstoke, and Andru McCracken from Valemount.
The Trust's 12-member Board consists of qualified individuals appointed by the provincial government: six from among the nominees of the five regional districts and the Ktunaxa Nation Council and six others. All directors must be residents of the Basin.
The Board meets throughout the year in communities around the Basin. The public is invited to attend in order to meet the directors and ask questions about the organization's work in the Basin.
Columbia Basin Trust supports efforts to deliver social, economic and environmental benefits to the residents of the Columbia Basin. To learn more about the Trust's programs and initiatives, visit cbt.org. To read highlights and minutes from Board meetings, visit cbt.org/board.