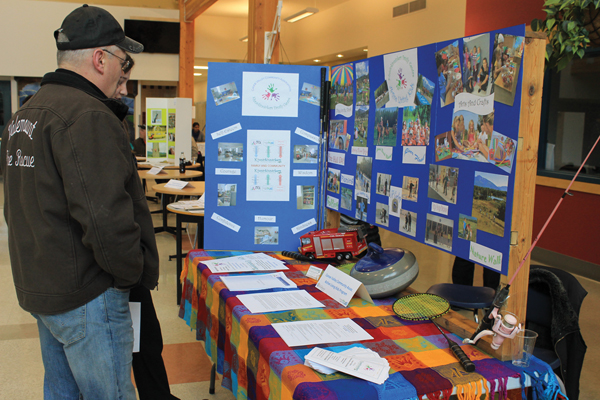 By: Korie Marshall
About 100 residents gathered at the Valemount Secondary School on March 12th to hear and give input about the 17 projects asking for funding this year from Columbia Basin Trust.
With a purse of about $216,000 this year, plus some left over from last year, the CBT's Community Initiatives and Affected Areas Program has $284,000 available for grants to the Valemount area this year. Organizations vying for a piece of the pie were invited to an open house where members of the community could ask questions one-on-one.
Following that, each group made short presentations in the theatre, and the public was invited to rank each project from 1-10.
Public evaluation will make up part of the overall scoring, explained Jordan Hammond, Management Intern for the Village of Valemount. The adjudication committee will also look at community benefit of the projects, methodology, partners, capacity and credibility of the proponents, and the proposal's and organization's financials. On the adjudication committee this year are Bill Kruisselbrink, Arnold Weid, Rita Rewerts, Ray Mickolash, Tom Jamin, Donnie MacLean, and Councillor Hollie Blanchette.
Lynda Lafleur, CBT's Community Liason for the Northwest Basin was on hand for the presentations and to talk with local organizations. The concession was open, serving treats, soup and chili to raise funds for the Grade4/5 Barkerville trip this year.
Even with funds left over from last year, the program is over-subscribed, with applications totaling $314,783. Projects applying for funds this year, in the random order they were presented, are: SQx Danza – $4,000 for an interactive dance awareness program for both the elementary and secondary school; Yellowhead Outdoor Recreation Association – $3,500 for grooming equipment for cross country ski trails; Robson Valley Spay and Neuter Society – $2,500 for a community pet identification project; Valemount Volunteer Fire Department Association – $37,316 for a live burn training facility; Junior Rangers (through the Royal Canadian Legion) – $2,378 for backcountry backpacking equipment; Valemount Marina Association – $3,050 to complete a new container workshop; Tourism Valemount – $29,775 towards the completion of the Cranberry Marsh trail/boardwalk (Phase 2); Valemount Lions Club – $68,550 for renovations to install accessible washrooms; Valemount and Area Chamber of Commerce – $2,000 towards a new website; Robson Valley Spay and Neuter Society – $5,000 towards the community spay and neuter program; Valemount Learning Society – $13,597 towards a new youth centre; Canoe Valley Community Association – $31,697 to continue and expand the Active Living Kids program; Royal Canadian Legion – $15,000 for hall upgrades including new flooring; Valemount Historic Society – $15,000 to produce the play "Valley Tracks"; Valemount Community Sports Day Association – $5,440 for a new youth initiative and rental of bouncy castles for the upcoming Valemountain Days; Valemount Area Recreation Development Association – $70,000 to complete Phase 1 of the mountain bike trails facility on Five Mile Hill; and Valemount Minor Hockey Association – $4,980 for a fall skills camp.
The Community Initiatives Program is CBT's oldest funding program, and provides grants to each community in the Basin each year, based on a per capita funding formula. The program is designed to incorporate community-based funding decisions to better meet local priorities. The Affected Areas Program provides extra funding for communities that were most affected by dam construction under the Columbia River Treaty – Valemount and other communities around the Kinbasket, Aarow, Duncan and Koocanusa reservoirs.
The adjudication committee will meet later this month to make recommendations to Council, and Council is expecting to make the final funding decisions at one of their meetings in April.