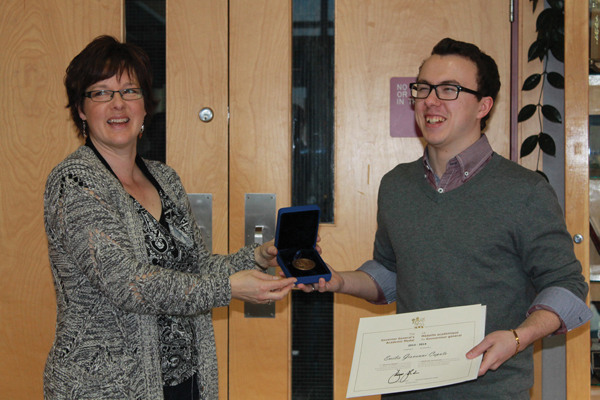 By: Chris Parker
Every parent dreads getting a phone call from the school. Either your child is sick, hurt or worse yet, in trouble. You know there will be a degree of urgency the minute you see the school name in the caller ID that you're going to have to go to the principal's office.
For one family in McBride this has recently been a dilemma requiring them to face up to parental responsibility. "This is McBride Secondary calling and we would like you and your child to report to the school office at 1pm" – can you imagine the apprehension? In the case of the Caputo family this is not the first time this particular phone call has been received; it is in fact the second. Only two years ago they received a similar call relative to their older son; this time it was Emilio's turn.
Emilio Caputo, a 2014 graduate, reported to the school office as requested with a big smile on his face knowing full well this was to be good news. Caputo was to be presented with his Governor General's Bronze Medal for having achieved exceptional grades in his graduating year. He grinned proudly as he said, "It runs in the family – my older brother was honoured to receive the same award two years ago."
Having lived his whole life in McBride, Caputo stated that he was thankful to have been given the opportunities that McBride provided. "Being from a small town I was able to play Volleyball, Basketball, and Track and Field while in school. I received a good education from great teachers who were supportive and care about their students." He then went on to state that his only regret was, "I love soccer but we didn't have a team in McBride. I did get lucky though this fall taking my first year university program at UNBC (Prince George), due to happy circumstances I happened to be placed in a dorm room with three members of the varsity soccer team. I'm loving it, as we spend a lot of our free time kicking the soccer ball around."
As I sat and chatted with Emilio Caputo I couldn't help but be caught up in his enthusiasm. He is an engaging young man, who looks for the best in people. He told me how many incredible students there have been from McBride, about the goodness of the people in town and the surrounding district and the support he has always been given by his family, friends, teachers, and the village. With Emilio's father proudly standing by to watch and share the presentation with his son the brief ceremony was soon over.
Caputo who started UNBC in the fall on a full four-year scholarship has big plans for his future. "Currently I am taking Geology, Astrology, and History along with some first year courses. I am technically a History major, and all of this is just a stepping stone in my long range plan. Once I achieve my (undergraduate) degree I plan on going to law school." As I shook my head in amazement over his plans he said, "It's tough but I am enjoying it and isn't that how life is supposed to be?"
On those words he smiled, shook my hand, and wished me a Merry Christmas. One poised, confident and well prepared (for life's future), young man. As I left the school I could not help but feel that this young man would go far – and with the ongoing support of family, friends, the village and district would be reading about his accomplishments and success for years to come.