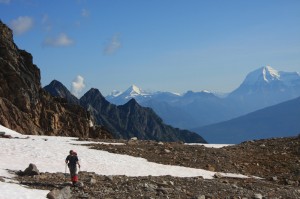 By: Korie Marshall
Investors are still unconfirmed, but a story online has a lot of people talking about the potential ski and sight-seeing resort near Valemount.
Powder Canada is a website that promotes itself as a resource for powder skiing in Canada. An editorial published late November on the website said Valemount's proposed ski resort took a major step forward with a recent "closing of purchase on over 30,000 acres of resort land, according to people close to the project." On Thursday, the phrase in the story was changed to "closing of investment towards 30,000 acres of resort land."
Tommaso Oberti of Pheidias Project Management, one of the proponents of the Valemount Glacier Destinations project, said the information in the article is "an invention without foundations."
Oberti says VGD is not involved in any acquisitions of Crown land, and cannot be, because Crown land cannot be sold before all approvals are granted for the project. The Master Plan has not yet been submitted to the province, and there are a number of other steps required before the province would consider selling Crown land.
In addition, provincial policy and the typical Master Development Agreement for a ski resort permits only a very small portion of Crown land be sold. The portion of land sold would be for overnight tourist accommodation in proportion with the capacity of the lifts that are installed, says Oberti.
The entire study area in the Formal Proposal submitted in 2012 is just over 40,000 acres, with the controlled recreation area covering about 20,500 acres. The total development area in the proposal is 480 acres (194 hectares) with the remaining 20,000 or so acres (8115 hectares) used under license from the provincial government. The proposal also includes just over 7,000 acres of licensed area for First Nations and just over 100 acres for First Nations development.
Greig Bethel, spokesperson for the Ministry of Forest, Lands and natural Resource Operations confirmed that there has been no Crown land sales related to Valemount Glacier Destinations' proposed resort. The application is still under review by the ministry's Mountain Resorts Branch.
The Goat contacted Dan Savage from Powder Canada Thursday morning to ask if he could confirm the information from his source, since a purchase of Crown land could not be possible at this point. Savage wouldn't share his source, but said it was someone in Toronto. Savage said he felt it was important to get the story out, since he hadn't even heard of the potential development near Valemount yet.
The piece on Powder Canada also says Hunter Milborne and Robert Powadiuk are the two rumoured to be involved in the investment. Milborne's bio on his company's website says he is nationally recognized as the "Dean of Condos" by Canadian Business Magazine, and Powadiuk has been credited with helping turn Mount Mackenzie into Revelstoke Mountain Resort.
When asked on Thursday if Milborne and Powadiuk were part of the group interested in investing in VGD, Oberti said "I can't verify anything at the moment, but hope to be able to do so by early next week." He did confirm on Monday morning that Greg Marchant, a partner of Milborne's, was in Valemount about a month and a half ago, but Oberti does not know who Robert Powadiuk is or whether he is one of the investment partners.
Oberti says work is continuing on developing the Master Plan. Environmental studies are continuing, and they've recently had to move a planned parking lot, because a small wetland area was identified that wasn't previously marked.
There are at least two access roads to the resort base being considered. One possible route is via Pine Road, directly across Highway 5 from 5th Avenue. Starting at Pine Road could give village residents more direct access to the resort. Oberti says another option is Crooked Creek Road, which is shorter and more level than most other resort access roads, but would likely need upgrading eventually.
Shuttle busses would likely be considered for staff, especially if staff is primarily living within the village, which is currently the plan for a number of reasons, including keeping the centre of commercial activity within the village. Oberti says shuttle busses would normally be an operational item that's dealt with later in the development, but it could be at least partly planned for in the Master Plan.
"Valemount may not have the budget capacity to start a transit system, but shuttle services are definitely do-able," says Oberti.
Oberti reiterated that the group currently interested in funding the project up to the completion of the Master Plan is also capable of funding the entire project, though there has been no commitment yet. He says he'll let the public know as soon as they have finalized an agreement on funding the rest of the Master Plan.