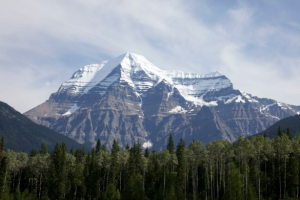 By: Korie Marshall
Destination BC, the Province's crown corporation for tourism, announced a new corporate strategy early this month, but it didn't make much noise about closing down two Visitor Centres in BC and its plans to review five more, including Mount Robson.
In early November, Destination BC sent out a news release about its new corporate strategy. The province says tourism is BC's third largest employer with over 132,000 people employed in tourism related businesses in 2013. The industry contributed $7.3 billion in gross domestic product in 2013, a 2.1 per cent increase over 2012, with 2014 on track for improvement as well.
The news release says the revitalized "Super, Natural British Columbia" brand focuses on nature and the beauty and power of BC's wilderness, and will be used in upcoming ski campaigns in Washington and Ontario.
But a story last week (Nov. 20th) in The Province says that government is reviewing operations at five visitor centres across the province, including Mount Robson.
The story reports that Marsha Walden, president and CEO of Destination BC (formerly Tourism BC) confirmed the closure of the two visitor centres at YVR, effective the end of January, and says that five other centres may close as well, located at Peace Arch, Merritt, Osoyoos, Golden and Mount Robson.
In a statement to the Goat on Monday, Walden confirmed that the two centres at YVR will close, but says the other five "will continue to operate."
Walden says Vancouver Airport Authority has agreed to take over guest service operations in YVR, once Destination BC closes their centres.
Walden says they'll be working with stakeholders across the province, including those who manage provincial and other visitor centres, to ensure visitor services of the future are "proactive and agile." She says the goal is to provide visitors with information when they need it, in the form they desire, including face-to-face. But she hasn't ruled out that there will at least be changes to the way they operate.
Walden says the first in a series of consultation meetings on the new strategy for visitor services was held on Nov. 5th, with representatives from over 70 visitor centres across the province, including staff from the Valemount Visitor Centre. She says Destination BC will assess which business management model makes the most sense and will allow more community input and flexibility in providing visitor services. She says more consultations will be held in 2015.
Wendy Dyson of Adventure Management, the company with a contract to run the Mt. Robson Visitor Centre, could not comment to the press because of her contract with the BC government.
Walden says if you want to attend future consultations, please contact Ninette Ollgaard, Director of Visitor Services with Destination BC at 250 356-0453 or [email protected].