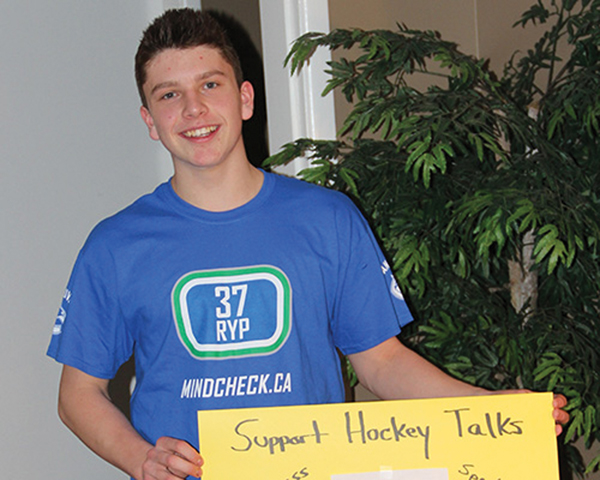 By: Korie Marshall
A new program from Northern Health is recognizing community members who are having an impact on promoting health in their community, and they are looking for more nominations.
Each month one Community Health Star will be selected and will receive a Northern Health Fit Kit, as well as being highlighted in their local communities and on the Northern Health Matters blog.
The first Star is 15-year-old Myles Mattila of Prince George, who has partnered with mindcheck.ca to promote mental health in youth by delivering school presentations.
"I wanted to raise awareness of mental health and mindcheck.ca because of a difficult situation I had with a teammate," said Mattila in a news conference. "He was in mental distress and I didn't know what to do or how to help him."
Later Mattila read about Vancouver Canucks player Rick Rypien who had been struggling with mental illness for years before committing suicide. Rypien wanted to be an advocate for mental health issues, and the story introduced Mattila to the website mindcheck.ca.
"Mindcheck is a confidential website designed to help youth and young adults in BC ages 13-25. It allows you to check out how you are feeling, regarding mood and anxiety, stress, alcohol and drugs, reality check, body image, eating, and speaking up," says Mattila.
"Mental illness shouldn't be a secret," says Mike Morris, MLA for Prince George Mackenzie. "With one in every 5 adults diagnosed with a mental illness during their lifetime, mental illness is the number one cause of disability in Canada, and yet it is often not discussed and remains poorly understood by many." Morris says in his more that 30 years with the RCMP, he estimates over 80 per cent of the issues police deal with are attributable to addictions and mental health issues.
"Northern Health knows that there are a lot of people across our region, doing a lot of outstanding work to improve their own health and the health of their fellow community members," says Sabrina Dosanjh-Gantner, Lead, Healthy Community Development – Local Government, with Northern Health. "They're doing this amazing work, on their own time, because they recognize how important health is. We want to shine the light on these people to highlight their amazing community involvement, to spread the importance of personal health and risk management, and to inspire others to support building healthier northern communities."
Community Health Stars will also include 15-year-old Seamus Damstrom of Terrace who is helping bring healthier foods into his school canteen, and 70-year-old Wayne Mould of Dawson Creek, who overcame kidney cancer and only one year later ran a marathon, winning in his age group. Northern Health says ideal nominee is anyone who is helping to improve the overall health of his or her community.
For more on Mattila's and other stories, check out blog.northernhealth.ca. To nominate someone, go to northernhealth.ca and click on "nominate today!"