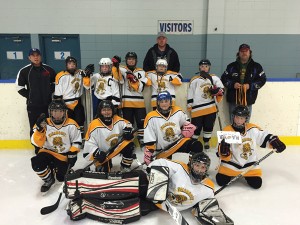 The combined Valemount/McBride Peewee Hockey Team travelled to Quensel for a tournament last weekend. All games were against four Quesnel Peewee Teams. In Game 1, The McVale squad won 3-1. Game 2 saw McVale lose to the second Quesnel team by a score of 6-2. In the third game McVale notched a 4-3 victory. In the fourth game, which was for third place, the McVale squad defeated Quesnel 8-0. Alex Mueck (Valemount) notched a hat-trick (3G) with Ian Munroe (McBride) scoring 2 goals in the decisive win. Ryan McNee (Valemount) and Braden Smith (Valemount) also scored a goal each. Aubrey Scheller (Valemount), one of three Atom Division players called-up for the tourney, scored his first goal in minor hockey for the McVale Team.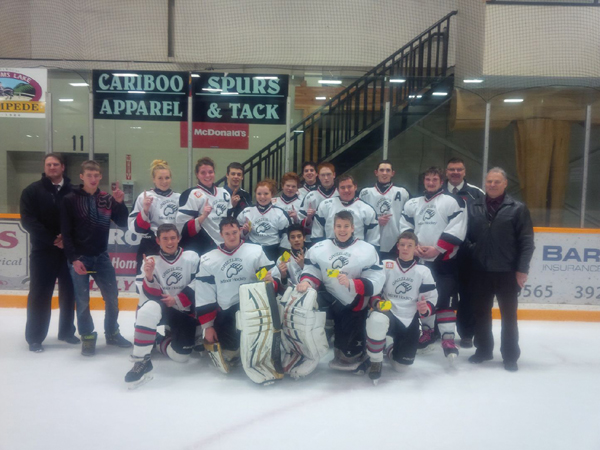 In other action last weekend, the McBride Grizzlies Midget Team travelled to Williams Lake, BC to participate in the 10 team round robin tournament. The other teams involved were 5 Williams Lake and Area teams, Smithers, Kamloops, Houston and Prince George. The format had all out of town teams play the 5 host Williams Lake teams until the playoff round.
The Grizzlies played Friday night against Williams Lake (White) and cruised to a 10-5 victory despite the game almost ending in a brawl. Keith Shawara (4G 2A) and Dylan Vizza (3G 3A) lead the way with 6 points each. Brett Jones, Bryden Basran and Noah Janeke also scored goals. Dawson Drader (2 A), Valemount product Hunter Friesen and Rylan Moore chipped in with assists. Robert Knezacek got the win in net.
In Game two vs Williams Lake (Wheat). Tristan Quam got the nod between the pipes enroute to a 6-1 victory. Shawara (2G 3A) and Vizza (3G) combined for 8 points. Jordan Gibson pitched in with an assist on the productive line. Valemount product Darian Griffin chipped in with 1 goal and 1 assist. Drader, Janeke and Friesen also had assists. In Game 3 in the afternoon the Grizzlies played to a 2-2 tie against Williams Lake Purple. The Grizzlies came out flat and did not come out of their sugar induced haze until the third period when they scored two goals to tie the game after goaltender Robert Knezacek stopped a break-away and then was pulled for an extra attacker on a Grizzlies power play. Shawara played hero with both goals. Grizzly forwards Billie Littlechild and Shea Braaten had to work extremely hard for the limited chances they had due to the little time and space the fast Williams Lake team gave them. The end of the game was marred by a semi-brawl when the Williams Lake team took exception to the Grizzlies tying things up.
With the round robin complete, the Grizzlies ended with 2 wins and 1 tie and waited to find out their placing after all games were completed. Grizzlies manager, Kristine Drader, was happy to report to the coaches that the Grizzlies found themselves in the second seed 1/2 a point behind the Houston Midget team thus placing them in the final on Sunday at 10 am. In a clean, exciting, fast paced game, Houston and McBride traded goals back and forth. Defenseman, Austin Gibson, Rylan Moore and transplanted center Dawson Drader had to dig deep as the Grizzlies were short staffed and had to play the game with only 3 D-men. Juliana Vizza showed why she was chosen Grizzly captain with an exhaustive effort registering 1 goal and 1assist. Dylan Vizza equaled his sister's effort scoring 4 goals. Shawara chipped in with a goal. Moore (2A) and Basran (1A) chipped in with 3 assists. Vizza's last goal, assisted by Moore, was with only 39 seconds left in the game and secured a 6-5 tournament championship win for the Grizzlies. After a shaky start, goaltender Tristan Quam did not stop competing and made the stops when he had to. Despite some adversity on and off the ice, coaches Gerry Porrier, Brian Shawara and Brady Knezacek were extremely proud of the never-give-up attitude from ALL of their players and would like to thank the players' parents for all they do.