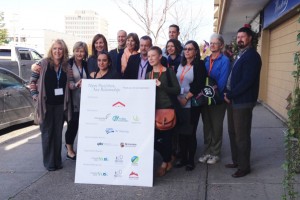 By: Korie Marshall
"Question your reality," and "What are we revitalizing?" were just two of the ideas coming out of this year's Canadian Rural Revitalization Foundation conference held in Prince George this September. Fifteen residents of the Columbia Basin were sponsored to attend the conference by the Columbia Basin Trust, including Valemount's Riette Kenkel and Owen Torgerson.
The conference, titled New Realities, New Relationships, was held primarily at the Coast Inn of the North, with the opening reception and banquet held on UNBC's campus. Field trips were organized for some of the participants either around Prince George, or to the Robson Valley area, including Mount Robson and the Ancient Forest. Speakers throughout the conference included Mike Morris, MLA for Prince George-Mackenzie, and Ken Sheilds, president of Conifex. Sheilds says Conifex is a "next-generation forest company" which has been working with bigger companies to find ways to use low-value wood, for example in power generation. Sheilds spoke briefly about the recent Tsilhquot'in judgement, saying the company feels the decision doesn't change their plans, but is a reaffirmation that forest companies and others must meaningfully consult with First Nations.
Some of the conference workshops and discussion forums focused on current research in land use planning, building better relationships with First Nations and opportunities to keep young people in small communities.
Jonathan Buttle, an economist with the Rural Development Institute, which is partly funded by the CBT, talked about the issue of land supply and demand. The RDI completed a Columbia Basin-wide study of property available in an effort to understand if communities needed more crown land released to private ownership, which had been a common perception. Buttle says the project came up with a suite of new questions rather than answers. Land is available for various types of development, but whether is for sale, or affordable, or in the right spot are more questions that are not yet answered. What they did came up with is a publically available tool, part of the Digital Basin Portal, that shows what property is available (though maybe not for sale) for certain uses.
Other presenters in the workshop with Buttle agreed that the implementation of land use plans is an issue, that small communities often don't have the capacity to make effective plans and there is often too much politics at the provincial level for small communities to get involved.
Dr. Greg Halseth, Director of UNBC's Community Development Institute gave an inspiring final keynote speech, outlining some "trajectories of change" – demographic, economic, environmental and political, and how we can affect change. He says an international panel on climate change made it an issue, a topic on people's minds, and organizations like the Canadian Rural Revitalization Foundation can be catalysts by focusing our energies and "imagining a new rural Canada." He says doing quality research, talking with policy makers and working with non-profits are all key.
CRRF's next annual conference and AGM are scheduled for Summerside, PEI.