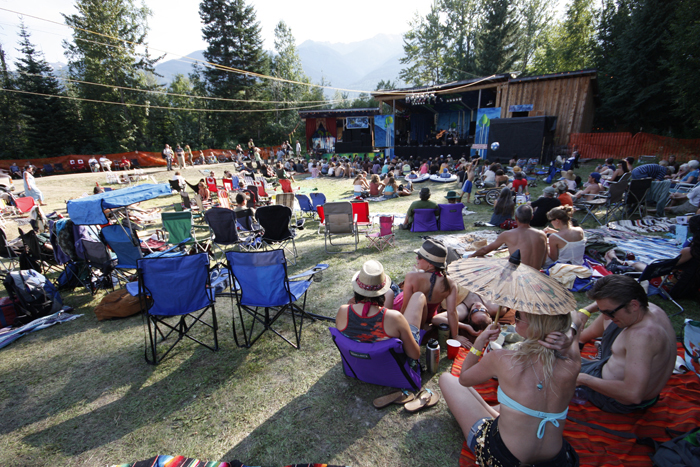 By: Laura Keil
Big things often start small.
If you go to the Robson Valley Music Festival this year, take a look at the deck of the jam shack. Far from the 50-foot stage nearby, this deck was the humble beginnings of the Robson Valley Music Festival its first year in 2005.
It was a gathering of friends, family and community, some 300 people that first year. People used the wooden deck as a stage. It was a sharing of music and community. That much hasn't changed.
One of the lead organizers Shara Gustafson says the festival, which now attracts 1,000 people, has retained its family-oriented and intimate feel.
"It's an intimate festival of epic proportions," she says.
Over the years, they have brought acts to Dunster, BC from all over the world. This year Namgar from Mongolia will be playing, among 40 other acts.
While many festivals are known mainly as party-sites, Gustafson says the comments she hears about RVMF are different: people will say the site is intimate, the overall vibe is peaceful, there are no huge crowds, everyone is smiling and parents can easily keep an eye on their kids. People also comment on the beautiful Fraser River location.
The journey from family gathering to massive tent city has come thanks to an infusion of volunteer labour, Gustafson says. The entire festival takes place on her family's and their relatives' properties, all private land. Setting up food, camping and toilet facilities for 1000 people? The Robson Valley Music Society, the organizing committee, consists of about seven people. Gustafson says the organizing part falls on just a few shoulders, but about 80 volunteers pitch in before, after and throughout the three-day event.
"It's pretty overwhelming," she says. "I feel so grateful for all our head coordinators and all the community who comes and helps to make this happen, otherwise it just wouldn't."
Gustafson says the festival is a big boost to the local economy. The festival is also the biggest fundraiser for the Dunster Fine Arts School Society. The Society sells food and drinks to festival-goers throughout the weekend.
Gustafson says one of her favourite parts of the festival is seeing local people enjoying music they never would have been exposed to.
"I love seeing the old timers out there, and newcomers, who say 'Wow I had no idea this was happening here.' I love the masses of volunteers who all show up and work together to create this incredible weekend together. People working for something so positive."
Gustafson says she hopes people sign up for the great music workshops they are offering this year. Day passes and weekend passes are still available for purchase. There is now cell service at the festival grounds. Festival-goers must bring cash for any purchases.